Government needs to consider opening up more opportunities for the private sector to run industrial parks in areas where state capacity is challenged.
This is according to the Deputy Minister of Trade, Industry and Competition, Ms Nomalungelo Gina who was addressing the National Industrial Parks Summit at the Centre for Scientific and Industrial Research (CSIR) in Pretoria.
The summit was hosted by the Department of Trade Industry and Competition (the dtic), in partnership with National Treasury, the National Cleaner Production Centre (NCPC-SA) and supported by Deutsche Gesellschaft für Internationale Zusammenarbeit GmbH-Natural Resources Stewardship Programme (GIZ-NatuReS)
Gina said other approaches, including public-private partnerships and improved management and efficiency in those industrial parks which must be retained by government are among strategies that must be explored, in efforts to improve the capability of industrial parks in driving industrialisation and economic growth.
"Township and rural economies would be best catalysed by the proliferation of industrial parks, at least in each of the 44 Districts of South Africa. We will have to be radical and intentional about this capitalizing with a potential of one or two niches around it. Where we cannot do, we need to engage the private sector and sweeten our proposition with an incentive such as Critical Infrastructure Programme (CIP) for underground structures," she said.
She further challenged partners at the summit to ensure success in co-creating a collaborative journey towards a reimagined path of transforming industrial parks to nodes of great opportunities for investment, jobs and skills development for communities and businesses to thrive going forward.
Industrial parks offer diverse opportunities for large scale development, addressing socio economic challenges and realising the country's reindustrialisation agenda.
Speaking at the event, the Deputy Director General of Inter-governmental Relations at National Treasury, Ms Malijeng Ngqaleni said critical lessons have been learnt from past experience in the running of Industrial Parks and will influence future efforts in revitalizing them.
"The greatest return on public sector investment will be in targeted spaces where we will have the strongest impact in terms of job and firm retention and expansion. Getting the basics right in terms of reliable and quality service provision, business and community safety, and proper land and space governance, is the fundamental building block to turning around these spaces. In addition, partnerships within the public sector and with the private sector and civil society are critical to driving innovation and productivity within these spaces," she added.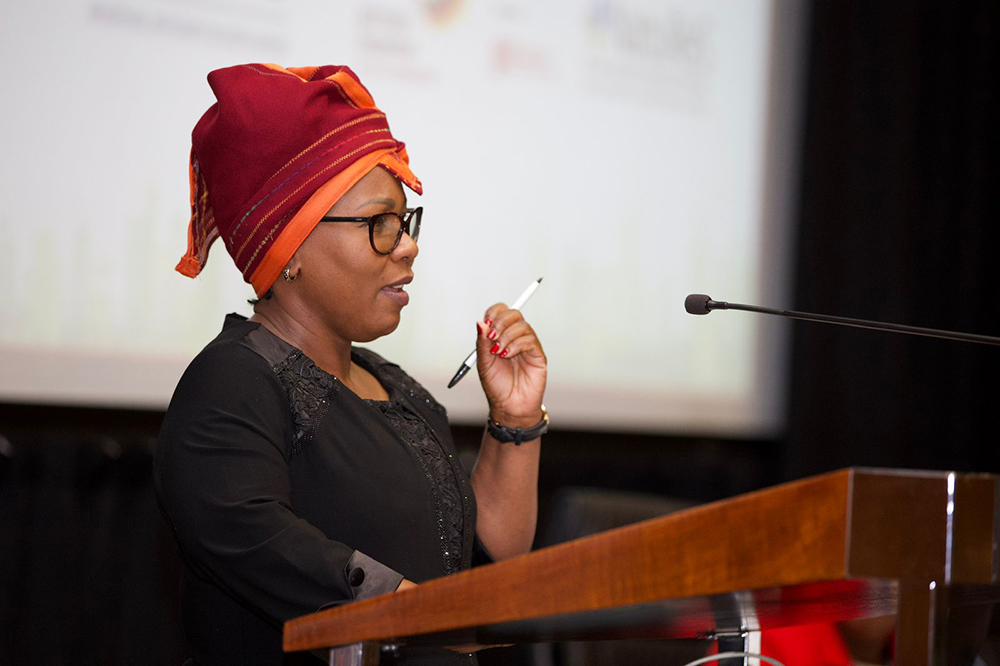 Deputy Minister of Trade, Industry and Competition, Ms Nomalungelo Gina at the National Industrial Parks Summit at the CSIR in Pretoria
Enquiries:
Bongani Lukhele – Director: Media Relations
Tel: (012) 394 1643
Mobile: 079 5083 457
WhatsApp: 074 2998 512
E-mail: BLukhele@thedtic.gov.za
Issued by: The Department of Trade, Industry and Competition (the dtic)
Follow us on Twitter: @the_dti
Share this: