The Department of Trade, Industry and Competition (the dtic) in partnership with the National Empowerment Fund and Industrial Development Corporation, launched the amended film and television incentives guidelines in Pretoria today.
The launch was aimed at informing the industry about the amendments to the dtic film and television incentives guidelines and to create an enabling environment for positive engagement and accessibility to the incentive programme.
Speaking at the launch, the Acting Deputy Director-General of Incentives at the dtic, Ms Susan Mangole said the department was committed to ensuring that every stakeholder understands the intentions behind these guidelines and how they will positively impact the industry. She said this could only be achieved through partnerships and dialogue.
"The amended guidelines are critical for stakeholders to understand and access incentive measures that support South Africa's national priorities. Recently, the prevailing environment has given rise to misalignment in the film and television incentives programme with our stakeholders as we gradually incorporate our national mandates and priorities. Something I believe that we can and should overcome," said Mangole.
According to Mangole, attracting over R200 billion in investment is part of the department's core output for the 2023/24 financial year, and the industry plays a pivotal role in this.
"The new guidelines with the R25 million threshold not only contribute meaningfully to transforming the film industry, but also create a viable and sustainable industry that we can all be proud of. We are hopeful that with you as partners, the film and television rebate will stabilise. We are systematically addressing historical challenges that have hindered our progress," she said.
Mangole further said that to ensure that the dtic met these expectations and creates an environment conducive to the seamless adoption of the new guidelines, they must address any misinterpretation and potential false narratives that may exist.
"Clear communication will be vital in our journey going forward. For the next three months, the dtic will engage the industry through its associations. These engagements will focus on strategic matters impacting the sector, including these amended guidelines. We urge industry associations to avail themselves for these engagements," added Mangole
Mangole also said they had hoped the department would have an online system with the launch of these guidelines; however, the information technology unit is working hard to ensure that applicants can submit applications online to improve administrative inefficiencies.
"We would like to see the film industry being a significant contributor to the Gross Domestic Product and for the industry to be self-sustainable. This includes signing of a comprehensive distribution plan to monetise the content in the market and the ownership of intellectual property. These guidelines align with the dtic's apex outcomes of industrialisation, transformation, and building a capable state," she said.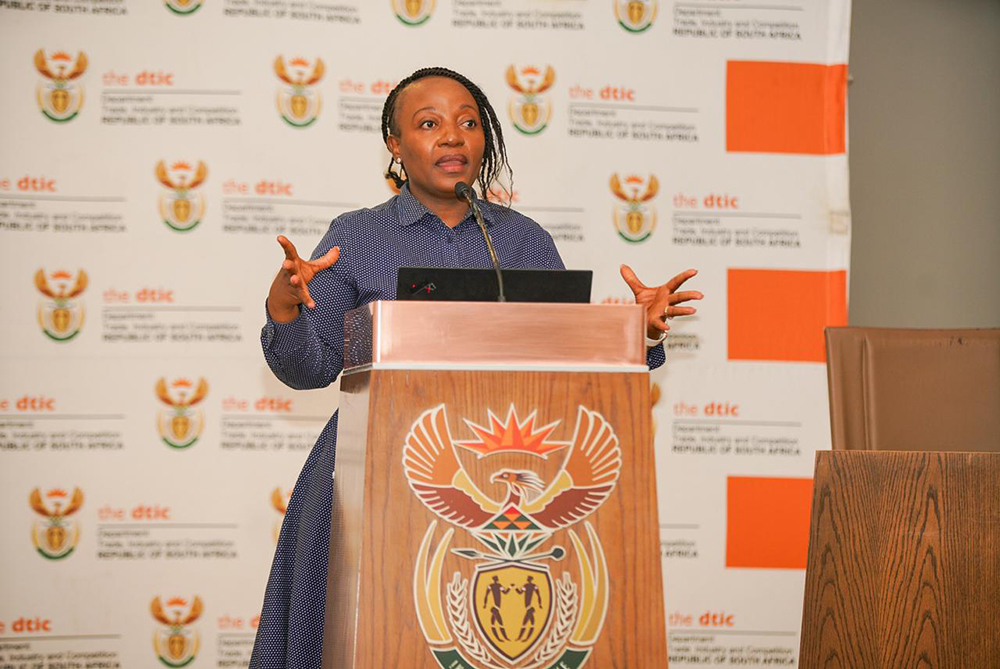 The Acting Deputy Director-General of Incentives at the dtic, Ms Susan Mangole at the launch of the amended film and television incentives guidelines in Pretoria today.
The new amended television and film incentives guidelines are effective as of today, and can be accessed on the dtic website:
http://www.thedtic.gov.za/financial-and-non-financial-support/incentives/film-incentive/
Enquiries:
Bongani Lukhele – Director: Media Relations
Tel: (012) 394 1643
Mobile: 079 5083 457
WhatsApp: 074 2998 512
Email: BLukhele@thedtic.gov.za or Mediarelations@thedtic.gov.za
Issued by: The Department of Trade, Industry and Competition (the dtic)
Follow us on X: @the_dtic
Share this: