The Deputy Minister of Trade, Industry and Competition, Ms Nomalungelo Gina has called on the South African and Vietnamese governments to fulfill their Joint Trade Committee (JTC) commitments, especially those that were stalled following Covid-19 lockdown. She asserted that this post-pandemic period would serve as an opportune moment to cover ground lost since 2020. Gina said this during the conclusion of the two-day JTC meeting which took place in Johannesburg yesterday.
The  Joint Trade Committee (JTC) meeting, which is held annually is intended to enhance bilateral economic relations between South Africa and Vietnam. This year's session was sitting for the first time in three years and was co-chaired by Deputy Minister Gina and her counterpart from the Vietnamese Ministry of Industry and Trade (MOIT), Vice Minister Tran Quoc Khanh.
According to Gina, the JTC is another opportunity to discuss how best South Africa and Vietnam could work together to enhance bilateral economic relations.
"South Africa attaches great importance to its relations with Vietnam, which date back to almost 30 years ago. Within the Asian region, Vietnam is South Africa's 9th trading partner, whereas South Africa is currently Vietnam's largest trading partner in Africa. Our bilateral trade has shown steady growth over the years with the highest growth achieved between 2019 and 2020. This, to us, demonstrates the resilience of our trade relationship. Our ambition is to grow and diversify our export basket to Vietnam. There is also scope to improve our investment relations," she said.
Gina added that Vietnam's visit to South Africa comes when the continent is excited about a very important milestone.
"Thus, the conclusion and implementation of the Africa Continental Free Trade Agreement (AfCFTA) presents investment opportunities in an open and larger continental market. We encourage Vietnam not to look at the African continent only as a market for exports but see it as an exceedingly important investment destination," said Gina.
She added that given the scope of the agenda items developed for the two-day session, an action plan covering a broad range of issues that would pave the way to more enhanced trade and investment relations would be produced.
"Having said that, I look forward to having fruitful discussions on how we can maximise the benefits of our bilateral trade and investment relations to ensure mutually beneficial results for the people of our respective countries," said Gina.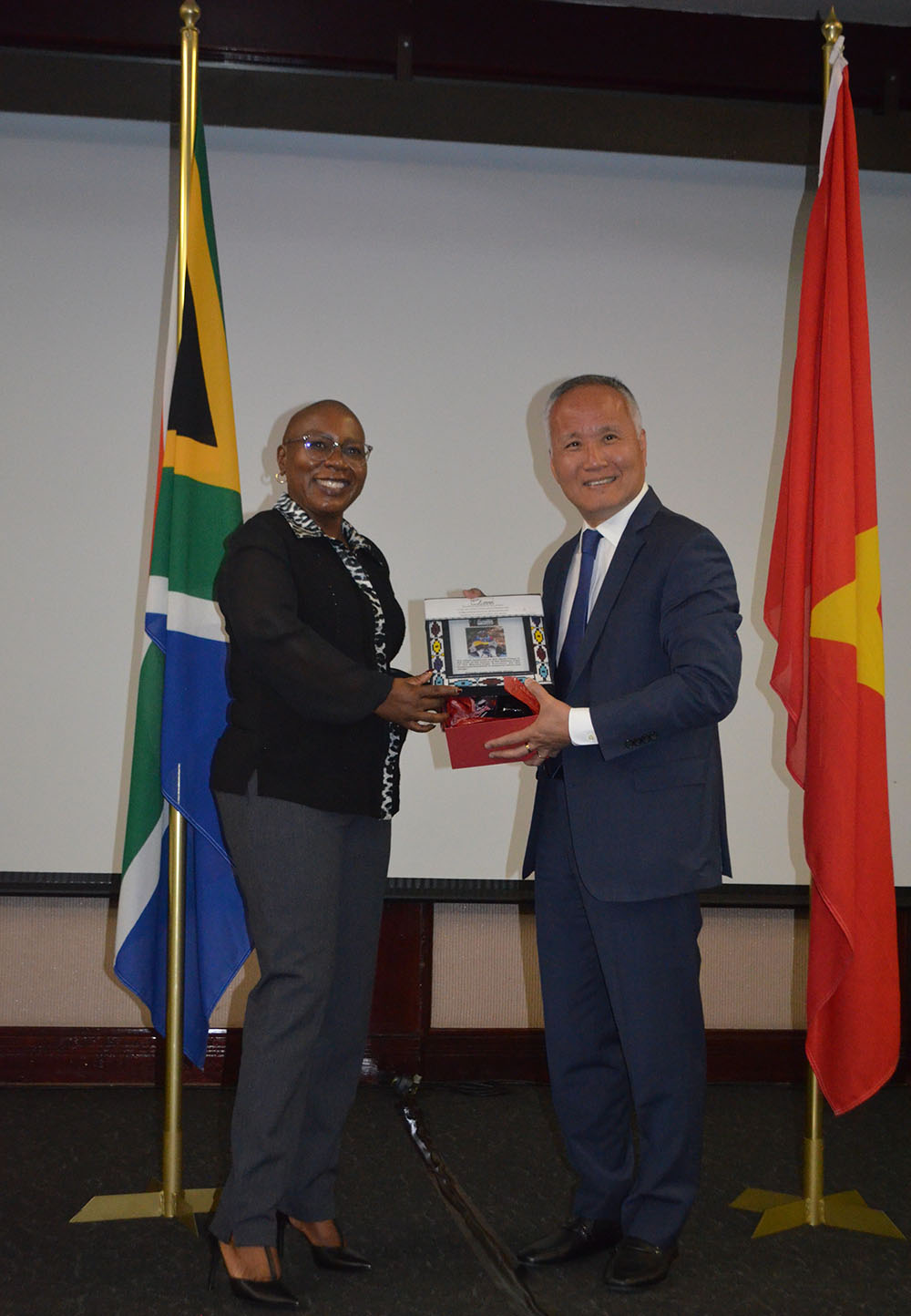 Deputy Minister of Trade, Industry and Competition, Ms Nomalungelo Gina together with the Vietnamese Deputy Minister of Industry and Trade, Mr Tran Quoc Khanh.
Enquiries:
Bongani Lukhele – Director: Media Relations
Tel: (012) 394 1643
Mobile: 079 5083 457
WhatsApp: 074 2998 512
E-mail: BLukhele@thedtic.gov.za
Issued by: The Department of Trade, Industry and Competition (the dtic)
Follow us on Twitter: @the_dti
Share this: