SA and Zambia Have Tried and Tested Relations Filled with Economic Opportunities
South Africa and Zambia have tried and tested relations that boasts economic opportunities for the future of both countries. This was said by the South African Acting High Commissioner to Zambia, Mr Marx Cameron while addressing the Trade and Investment Seminar hosted by the Department of Trade and Industry (the dti) as part of the week-long Outward Trade and Investment Mission to Lusaka and Kitwe, Zambia that started yesterday.

Cameron said with these tried and tested relations both countries realised that there was still a lot to be done for the improved trade relations with win-win situation, with the trade and investment mission being one of those efforts.

"South Africa recognises the importance of Zambia and ripe opportunities for the South African investments. We believe cooperation between Zambia and South Africa is central to economic development in the region and as long as we collectively identify our strengths, weaknesses and challenges, finding possible solutions should be guaranteed," said Cameron.

He added that it should be possible to someday say that Africa cannot be given continuously but Africa is able to stand on its own because Africans made the Continental Free Trade Area a reality through the individual strengths as a tool for the development of a better Africa. Importantly, he said the power to change and shape Africa remained within the power of Africans.

"We can no longer talk about trade and investment in the context of South Africa without considering the integral nature of our relationship with other countries in Africa. The African continent has opened up new markets for the business community to expand and grow within the continent and businesspeople must take advantage of that. We believe investing in the African economies and Southern African Development Community in particular is a key contribution that business can make towards the vision of employment creation and poverty reduction," pointed out Cameron.

The Chief Economist: Industry Development Programmes at the Zambia Ministry of Commerce, Tarde and Industry, Ms Pamela Chitulang'oma called on both South African and Zambian businesspeople to invest in the manufacturing sector amongst other sectors in order to address the trade imbalance that is in favour of South Africa.

With the continued exchange of trade and investment opportunities, Chitulang'oma said it was expected for trade and investments between the two countries to increase. She added that Zambia was endowed with abundant natural resources ranging from agricultural products to minerals but there was little value addition to these resources. According to her, the Zambian government has embarked on implementing measures aimed at diversifying the economy and is encouraging local value addition to these resources.

"Government is committed to encouraging and supporting investments through provision of an enabling business environment conducive for investments. We urge South African businesspeople to explore these investment opportunities even in the Copperbelt Province particularly in value addition in the minerals," said Chitulang'oma.

Over 150 businesspeople attended the seminar and the mission will proceed with sector specific site visits in Lusaka before proceeding with the second-leg in Kitwe.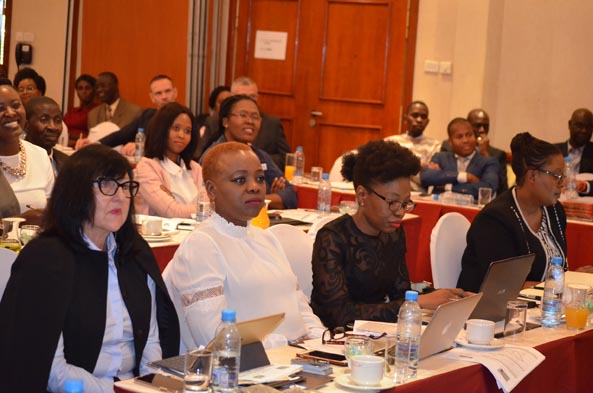 Delegates attending the trade and investment seminar.
Enquiries:
Sidwell Medupe-Departmental Spokesperson
Tel: (012) 394 1650
Mobile: 079 492 1774
E-mail: MSMedupe@thedti.gov.za
Issued by: The Department of Trade and Industry
Follow us on Twitter: @the_dti
Share this: