SA Business Delegation Arrives in Ghana to Seek Trade and Investment Opportunities
A group of South African businesspeople has arrived in Accra in search of trade and investment opportunities in Ghana. Their arrival marks the first leg of the week-long Outward Trade and Investment Mission (OTIM) that begins in Accra tomorrow and will end in Lagos, Nigeria on Friday, 14 February 2020. About forty companies operating in various sectors including agro-processing, chemicals, pharmaceuticals, infrastructure, energy and mining will be participating in the mission.

The mission is organised and funded by the Department of Trade and Industry (the dti) through its Export Marketing and Investment Assistance (EMIA) Scheme whose objective is to develop export markets for South African products and services. The mission will comprise of trade and investment seminars, business-to-business meetings and site visits.

According to the South African Foreign Economic Representative in Ghana, Mr Mzwakhe Lubisi, more than 200 Ghanaian companies have been invited to attend the South Africa-Ghana Trade and Investment Business Seminar taking place tomorrow.

"The seminar, which will be addressed by the South African High Commissioner to Ghana, Ambassador Lulu Xingwana will bring the Ghanaian and South African businesspeople together. The seminar will provide them with an opportunity to gather information about the opportunities that the two countries' economies offer to them to explore. The seminar will be followed by business-to-business meetings where businesspeople will be able to directly discuss possible opportunities that they will have identified and planned to work together to grab. Our companies will spend their Tuesday conducting site visits to various companies, organisations and institutions that are critical in them trading or investing in Ghana," said Lubisi.

Businesspeople that are participating in the mission expressed their desire to make full use of the mission to achieve their objective of penetrating the West African market.

The Director of a Bloemfontein-based company, Basils Business Opportunists, Mr Basil Phupha said he was looking forward to the trip as it provides his company with an excellent opportunity to expand its market to West Africa.

"We are determined to find companies in Ghana and Nigeria that can import our products and distribute them in the two countries and the rest of the sub-region. We are optimistic that our mission of finding a market for our products in the two West African countries will be a success as we are already in contact with Ghanaian and Nigerian companies that have already shown interest in our equipment," says Phupha.

The Director of CFAM Technologies, Mr Louis Grobler would be happy to find clients and a distribution agent that will be interested in doing business with the Potchefstroom-based company, which manufactures agricultural processing equipment.

"Our objective is to penetrate the West African market and expand our footprint as we have already exported our products to countries such as Namibia, Botswana, United Kingdom and Canada. We are positive that the trip will yield positive results for our company," added Grobler.

The Managing Director of the Pretoria-based Tintswalo Project Managers, has set her sight on the construction and infrastructure development projects in Ghana

According to the Deputy Minister of Trade and Industry, Ms Nomalungelo Gina, the mission is expected to contribute in increasing bilateral trade and investment between South Africa and the two West African countries.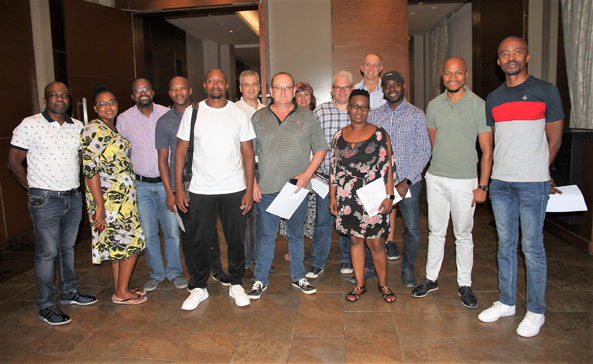 Some of the South African businesspeople who arrived in Ghana to look for trade and investment opportunities
Enquiries:
Sidwell Medupe-Departmental Spokesperson
Tel: (012) 394 1650
Mobile: 079 492 1774
E-mail: MSMedupe@thedti.gov.za
Issued by: The Department of Trade and Industry
Follow us on Twitter: @the_dti
Share this: