The South African businesspeople who participated in the International Defence Exhibition and Conference (IDEX) that took place in Abu Dhabi, United Arab Emirates, from Monday are heading home with bagsful of mouth-watering leads that they hope will soon generated into concrete deals.
Eleven South African manufacturing companies operating in the aerospace, maritime and defence industries showcased their products in a National Pavilion that was set up by the Department of Trade, Industry and Competition (the dtic) at the 16th edition of the popular biennial trade show. This is part of the department's efforts to provide manufacturing companies with an opportunity to search for export markets for their products internationally.
The main objective of the support provided by the dtic was to see companies increasing their production and creating more employment after securing deals to export their goods to various markets. In this way they will be able to contribute in increasing the country's exports and earning the much-needed foreign revenue that will contribute in South Africa's economic growth.
The Sales Manager of Zebra Protection, Ms Ana Leskovar says the trade show went very well for her as she managed to interact with a significant number of current and potential clients.
"We used the opportunity provided by this show to touch base with our current  clients based in the UAE. But we also managed to interact with many companies who showed interest in procuring our products and distribute them all over the world.  We are optimistic that the myriad trade leads that we managed to generate here will develop into lucrative deals for us soon," says Leskovar, whose bullet proof helmets attracted a lot of attention from the potential clients who visited her stand.
The Sales and Marketing Manager of Unipro Protective Wear, Ms Mpho Mankge says she has been receiving positive leads since the beginning of the show on Monday, mainly due to her company's bulletproof vests that caught the eyes of many visitors.
"We are definitely going to have our work cut out trying to separate the wheat from the chuff when we get back home. We received countless enquiries and quite a noticeable number of companies shown genuine interest in doing business with us.  One potential deal that we are closed to clinching is with an agent who is going to assist us sell our products in the UAE and the rest of the Middle East region. That will be the highlight of this show for us as we are participating in an international exhibition outside the country for the first time. It has been a productive show for us indeed," adds Mankge.
The Business Development Director of Shrike Marine, Ms Rhi Cuthrie also expressed confidence that the amount of interest her company's vehicle power management systems generated at the exhibition will soon translate into concrete deals.
"This show has been very successful for us. I attended numerous meetings with potential customers, mainly from the UAE, who wanted us to share more information about our products.  This was one of the best trade fairs we have attended. The quality of the visitors we interacted with really gave us hope and confidence that some deals could be in the pipeline. Anything is possible," said an elated Cuthrie.
For the Managing Director of Radel, Mr Francois Rademeyer, the exposure that his vehicle electrical system company obtained has tremendously elevated its profile amongst potential customers who descended on in Abu Dhabi looking for best-quality and innovative products.
"Our presence has enhanced trust amongst our existing customers that we managed to interact with at our stand. We also had many enquiries from potential clients, but the one that stood out was by a reputable consultant that wants to assist us enter the European market. The show was beneficial to us," adds Rademeyer.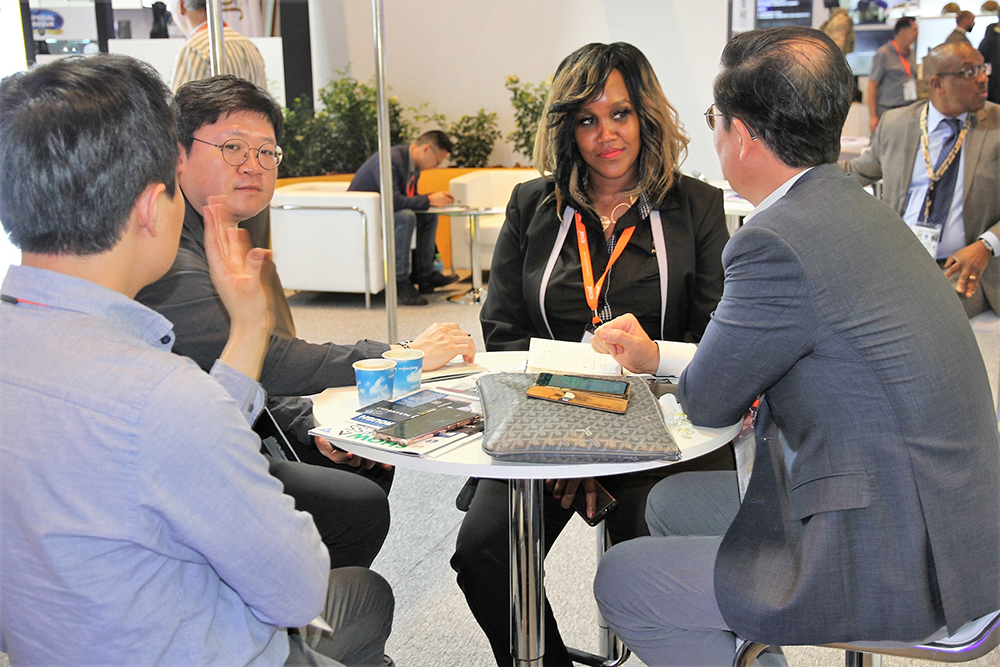 The Sales and Marketing Manager of Unipro Protective Wear, Ms Mpho Mankge chatting to potential clients in the South African pavillion that was set up by the Department of Trade, Industry and Competition (the dtic) at the International Defence Exhibition and Conference (IDEX) in Abu Dhabi, United Arab Emirates.
Enquiries:
Bongani Lukhele – Director: Media Relations
Tel: (012) 394 1643
Mobile: 079 5083 457
WhatsApp: 074 2998 512
E-mail: BLukhele@thedtic.gov.za
Issued by: The Department of Trade, Industry and Competition (the dtic)
Share this: