Some of the 80 government-supported South African businesspeople who are currently showcasing their products and services at the seven-day long Intra-African Trade Fair (IATF) which started in Durban on Monday are registering good trade leads that may see them exporting their products to different African countries in the near future.
The Managing Director of Legratron Electronics, Mr Itumeleng Matshego says he has come to the fair is to market his products, build relationships with other businesspeople from the Southern African Development Community (SADC) region in particular, and establish partnerships that can enable him to do business with other companies from the rest of the continent.  Legratron specialises in tracking solutions, specifically developed for businesses.
"We are optimistic that we will be able to achieve our goal as we have already held several meetings with businesspeople from Botswana, Egypt, Ghana and Swaziland. The meetings did not only touch on our offerings, but also on current developments in those countries specifically in terms of technology were Legratron can find synergies. We are hopeful that we will soon sign deals as the businesses we met have shown keen interest in our products," says Matshego.
The Sales Manager of Jacobs Food Group, a female-owned jam business located in Ceres, Western Cape, Ms Koo Schuurman is optimistic that the trade fair will offer them an opportunity to expand their brand, which is currently in Western Cape and Zambia. The company manufactures jam that comes in three flavours, apricot, strawberry and pomegranate. It employs ten people.
"We have received satisfying reviews and we should be closing a deal with a big client from Ghana who says our jams will be good for their market. Both the taste and the packaging of the jam have impressed him. We are hopeful that by the end of the trade fair we will have concluded several deals that will see our products finding their way to other parts of Africa," says Schuurman.
The Sales Manager of Protea Leather Natal, Mr Francis Maphumulo, says he has met potential clients with whom he will be holding follow-up meetings. They will also be visiting his factory at the end of the trade fair. Protea Leather Natal has clients in Namibia and Mauritius, and looks forward to expanding their footprint in other African countries.
The South African pavilion is showcasing the best of South African local manufacturing capability in the agriculture and agro-processing; automotive; construction and infrastructure development; consumer goods; energy and power; engineering; footwear; leather and textiles; heavy Industries and light manufacturing; health care and pharmaceuticals; Information and Communication Technology  and Innovation; logistics; and mining sectors.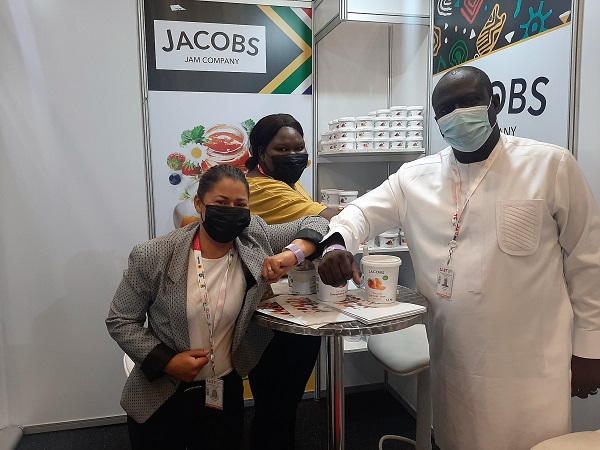 From left to right: The Sales Manager of Jacobs Food Group, Ms Koo Schuurman, Assistant Production and Sales Manager, Ms Babalwa Gaba with their potential Ghanaian partner, Mr Joel Dema Anim who is the Group Chief Executive Officer of Joekelrome Foods and Detergents.
Enquiries:
Bongani Lukhele – Director: Media Relations
Tel: (012) 394 1643
Mobile: 079 5083 457
WhatsApp: 074 299 8512
E-mail: BLukhele@thedtic.gov.za
Follow us on Twitter: @the_dti
Share this: