SA Businesspeople Return from Uganda with Bagful of Leads and Deals
A group of South African businesspeople who participated in the week-long Outward Trade and Investment mission to Uganda returned home with glee because of the trade leads that they generated and the deals that they secured in the East African country. The mission was funded by the Department of Trade and Industry (the dti) in an effort to boost trade and investment between South Africa and Uganda.

Almost all the businesspeople said they were planning to return to Uganda in the near future to sign the deals that they managed to negotiate and to follow up on the trade leads that they generated mainly in the agro-processing, energy, infrastructure and furniture sectors.

The Marketing Manager of La Ric Mal Wines, Mr Malcom Green was happy that he successfully negotiated a deal which will see his wines making their way to the shelves of all five Shoprite stores in Uganda.

"It was really a successful mission for us. The deal would not have come at a more opportune time as we are planning to expand our export market to East Africa. Our presence in Uganda will enable us to use it as a base to establish our footprint in other countries in the region," said Green.

The owner of Aquaculture Innovations, Mr Leslie Ter Morshuizen said he had a target of one lead which would result in his company building a fish farm in Uganda. But he returned with numerous leads that would end up in his company building several fish farms in Uganda.

"I also managed to get a number of other clients who were interested in our equipment and training services," said Ter Morshuizen.

The Chief Executive Officer of Grandstage Trading, Ms Christine Masaiti said she would be getting down to serious work to follow up on the seven trade leads that she established and to service two orders worth thousands of dollars that she received.

The Director of Basils Business Opportunities, Mr Basil Phupha was overwhelmed by the opportunities for the supply of agro-processing equipment that he identified in Uganda.

"Agriculture is the heart of the Ugandan economy. I have identified quite an astonishing number of opportunities where our agro-processing equipment is required. I am confident that the trade leads that I managed to generate there will become concrete deals soon," said Phupha.

The CEO of Bridge of Hope Wines, Ms Rosemary Mosia, who hosted a wine-tasting session at the premises of a Ugandan businesswoman who is importing her wines to Uganda, said she was planning to invest in a bottling plant in Kampala.

"We started exporting our wines to Uganda early this year and they have received a warm reception from the Ugandan wine consumers. The feedback I received on the ground from my importer and the wine lovers themselves is positive. The product is also doing well on the shelves and this will require that we increase our stock. I think that provides us with an opportunity to consider setting up a bottling plant in Kampala in order to export the wine in bulk and bottle it in Uganda," said Mosia.

The leader of the South African delegation, Ms Kwanda Modise, who is the Director of Export Promotion at the dti, said she was inspired by the companies' feedback on the mission.

"As a department we have a mandate to increase intra-Africa trade and investment across the continent. The investment and trade missions are part of our efforts to achieve this objective. We take companies to various markets where they can identify opportunities to establish partnerships and joint ventures to explore trade and investment opportunities in those countries. The feedback we received from companies that participated in the Ugandan mission was extremely positive and justifies a return to the country with another mission in the next financial year," said Modise.

She added that one of the companies had identified an opportunity to invest in a timber electrical pole manufacturing facility in Uganda, while another identified a possible joint-venture for the manufacture and regional supply of school furniture there.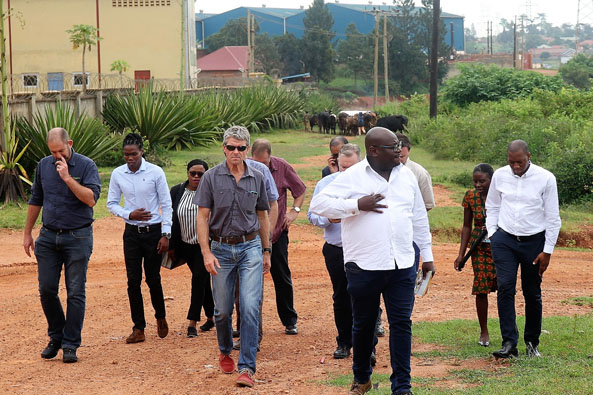 Searching for opportunities – members of the South African business delegation on a site visit to an industrial park in Kampala
Enquiries:
Sidwell Medupe-Departmental Spokesperson
Tel: (012) 394 1650
Mobile: 079 492 1774
E-mail: MSMedupe@thedti.gov.za
Issued by: The Department of Trade and Industry
Follow us on Twitter: @the_dti
Share this: