SA Wants to Be Part of Mozambique's Success Story – High Commissioner Mpahlwa
South Africa would like to feature prominently when Mozambique's success story is written. This was said  by the High Commissioner of South Africa to Mozambique, Ambassador Mandisi Mpahlwa. He was addressing businesspeople at a South Africa-Mozambique Business Seminar that was hosted by the Department of Trade and Industry (the dti) in Pemba, Mozambique today.

The seminar was part of the Outward Trade and Investment Mission to Pemba and Maputo that started today and will end in Maputo on Friday. The objective of the mission is to increase bilateral trade and investment between South Africa and Mozambique by exposing South African companies to opportunities that are available in Mozambique for them to explore.

"The Department of Trade and Industry has organised this mission to Mozambique in order to bring our businesspeople here to interact with their counterparts. This seminar provides a perfect platform for that kind of interaction, which should lead to partnerships and joint ventures that will contribute in strengthening trade relations and increasing investments between South Africa and Mozambique," said Mpahlwa.
He added that Mozambique in general, and the Cabo Delgado Province in particular, is going through exciting times economically because of the liquefied natural gas megaprojects being rolled out in the province.

"As South Africa we want to be part of Mozambique's success story. We are here to interact with all relevant stakeholders in both the public and private sectors to ensure that proper partnerships and joint ventures are established amongst our businesspeople to explore opportunities that the changing Mozambican economy is presenting. We are taking a 360-degree view of these developments and are well-positioned to explore opportunities that will sprout out in other sectors of the economy as a result of the gas projects," added Mpahlwa.

The Permanent Secretary of the Cabo Delgado Province, Mr Antonio Mapure also emphasised to the businesspeople the importance of looking for investment and trade opportunities beyond the gas projects.

"The gas projects will open up opportunities for private sector investments and partnerships in various sectors of our economy such as agriculture, agro-processing, fisheries and tourism," said Mapure.

The 45-member South African delegation that comprises of representatives from the private and public sectors will conclude the Pemba leg of the mission to Mozambique tomorrow with site visits to various companies before the delegation proceeds to Maputo on Wednesday for the second leg.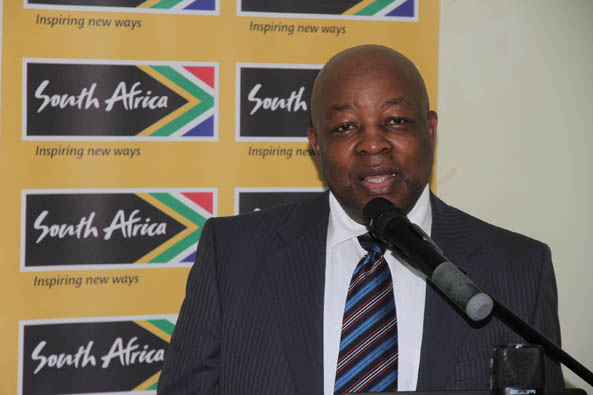 The High Commissioner of South Africa to Mozambique, Ambassador Mandisi Mpahlwa addressing the South Africa-Mozambique Business Seminar in Pemba, Mozambique.
Enquiries:
Sidwell Medupe-Departmental Spokesperson
Tel: (012) 394 1650
Mobile: 079 492 1774
E-mail: MSMedupe@thedti.gov.za
Issued by: The Department of Trade and Industry
Follow us on Twitter: @the_dti
Share this: