SA Wines Market Growing in Russia
The Foreign Economic Representative of South Africa in Russia, Mr Moloko Leshaba has urged the businesspeople who will be showcasing Proudly South African wines at the Prodexpo international trade show in Moscow, Russia from 10-14 February 2020 to continue impressing the Russian market with their Proudly South African quality wines.

Prodexpo is a large international show for the food and drinks sector in Russia and Eastern Europe. The timing of the show coincides with the buying period for summer, which is the highest consumption period for wines.

Leshaba was sharing his insight of the Russian market with the businesspeople on their arrival to Moscow ahead of the show. He said the spread and presence of the South African wines in Russia has grown in recent years. The presence of premium brands has also increased in the market.

"Export of bottled wines for the period January to September 2019 over the same period in 2018 grew by over 33 percent. The growth was on the back of slight declined in 2018. According to South African Wine Industry Information and Systems (SAWIS), 97.2 percent of South African bottled wines is exported in 750ml bottles. According to SAWIS statistics, Russia is the leader in import of South African bottled wine representing 20 percent of total export of bottled wine," says Leshaba.

According to Leshaba, it is hard to enter a supermarket and not see South African wines. This he said was due to the hard work and sacrifice by the wine sector together with opportunities created by government to open up markets. He further urged businesspeople to continue working to increase these wine exports to the Russian market, through producing quality wines, being compatible and conducting business in a professional manner.

"You are fortunate to be in this show, as a third of the buyers come to the show for the wines. Seize this moment and clinch deals. Importantly note that the Russian market is very competitive, therefore you must be realistic, still be compatible and importantly sell and excel," said Leshaba.

The mission is organised by The Department of Trade and Industry (the dti) for the South African companies from the agro-processing sector to showcase their products at the trade fair and create awareness about the proudly South African wines. The mission is funded through the department's Export Marketing and Investment Assistance (EMIA) Scheme, whose objective is to develop export markets for South African products and services.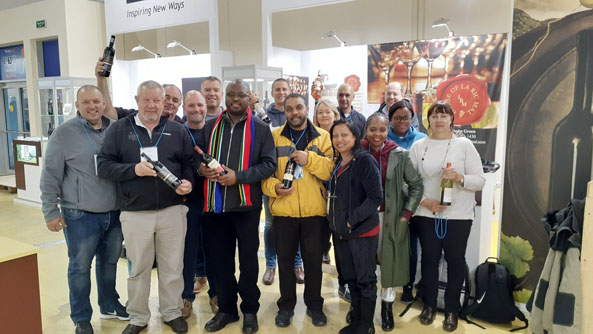 SA business delegation at the Prodexpo international trade show in Moscow, Russia.
Enquiries:
Sidwell Medupe-Departmental Spokesperson
Tel: (012) 394 1650
Mobile: 079 492 1774
E-mail: MSMedupe@thedti.gov.za
Issued by: The Department of Trade and Industry
Follow us on Twitter: @the_dti
Share this: