The development objective of the Specialised Industrial Facility (SIF) will contribute towards jobs creation, social inclusion and a reduction in the gender poverty gap through supporting skills development, infrastructure and enterprise development in the district. This was said by the Deputy Minister of Trade, Industry and Competition, Mr Fikile Majola during the launch of the SIF which took place at the Sekhukhune Technical and Vocational Education and Training (TVET) College in Motetema, Limpopo.
The initiative is in line with the new reconfigured Spatial Industrial Development Framework that is currently being finalised by the Department of Trade, Industry and Competition (the dtic) with the intent to ensure that government intervenes in all districts across the country.
According to Majola, this new approach to developing SIFs in TVET colleges is a new approach which seeks to integrate township and rural economy in the work of the different spheres of government and across the different departments.
"Furthermore, areas of technology and innovation form an integral part of new ways of production, effective methods of doing business and reduction of cost, which we hope the students and Small Micro and Medium Enterprises (SMME) will enjoy through the use of this facility. This is also in line with the Fourth Industrial Revolution that is consistently sweeping across the globe," he said.
The Sekhukhune SIF launch is the third of four TVET colleges that have been earmarked as pilot centres that will support skills development for students and provide technology access to SMMEs to improve their productivity. These SIF centres are established in partnership with the African Development Bank which funded the initiative through its Middle Income Grant.
On success acquired since the establishment of the Sekhukhune TVET SIF, Majola announced that 1 200 students and SMMEs participated in a one-day introductory workshop to the facilities.
"This workshop aimed to inform the potential beneficiaries about the SIF programme and encourage participants to register. Of the 1 200 participants, 500 were from Lovedale, 200 from Sekhukhune and 350 from Ekurhuleni East and 150 from ESayidi TVET College. A total of 350 participants, predominantly SMMEs near the colleges, were registered for a five-day accredited entrepreneurship course aimed at providing the participants with the necessary knowledge and skills to establish and manage a successful business venture. Of the 150 participants, 42 were trained at Lovedale; 21 at Sekhukhune and 70 at Ekurhuleni East. Of the total trained, 42% were female entrepreneurs," said Majola.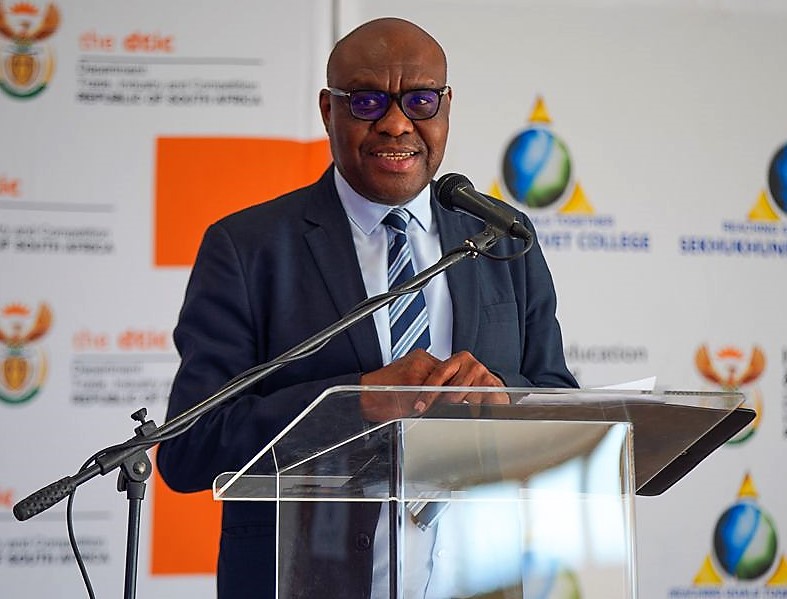 The Deputy Minister of Trade, Industry and Competition, Mr Fikile Majola delivering a keynote address during the launch of the Specialised Industrial Facility at the Sekhukhune TVET College in Motetema, Limpopo.
Enquiries:
Bongani Lukhele – Director: Media Relations
Tel: (012) 394 1643
Mobile: 079 5083 457
WhatsApp: 074 2998 512
E-mail: BLukhele@thedtic.gov.za
Issued by: The Department of Trade, Industry and Competition (the dtic)
Follow us on Twitter: @the_dti
Share this: