Signing of the Economic and Trade Cooperation Agreements Signifies a Deepening of the Economic Relationship between South Africa and China – Patel
The Minister of Trade and Industry, Mr Ebrahim Patel says that the signing of 93 ninety-three economic and trade cooperation agreements between South African and Chinese entrepreneurs signifies a deepening of the economic relationship between their respective countries. Patel said this during a signing ceremony that took place in Cape Town yesterday.

Patel said that the deals which are worth in excess of R27 billion, will help create jobs for young people, deepen South Africa's industrial footprint and grow the country's Gross Domestic Product.

"One of the noteworthy agreements is an additional equity injection into a Chinese auto-assembly plant in Coega. The Beijing Auto Industrial Corporation is building the country's first new light-vehicle manufacturing plant in more than 45 years, in Coega in the Eastern Cape. Our engagement through platforms of this nature reflects our common determination to take our economic relations to greater heights," he said.

Patel further outlined that South Africa and the People's Republic of China established diplomatic relations have been more than twenty-years in the making, with an upgrading of partnerships between the two countries to a strategic level with the adoption of the Comprehensive Strategic Partnership Agreement (CSPA) in 2010.

"The CSPA prioritised improving the structure of trade between the two countries by working towards a more balanced trade profile and encouraging trade in value-added manufactured products. This would be achieved through Chinese enterprises investing in South Africa's manufacturing industry as well as actively promoting the sourcing of value-added products by China from South African suppliers. It is our belief that the implementation of the eight major initiatives to boost cooperation with Africa under the Forum for China-Africa Cooperation (FOCAC) – particularly in the areas of industrialisation, infrastructure, trade and investment facilitation as well as financial services and capacity building – will make a positive contribution to the growth of the African continent," said Patel.

Patel concluded by strongly encouraging that the profile of South African exports to China change to more value added products, which will support industrialisation and lead to the employment of many South Africans, in line with the 2010 Comprehensive Strategic Partnership Agreement.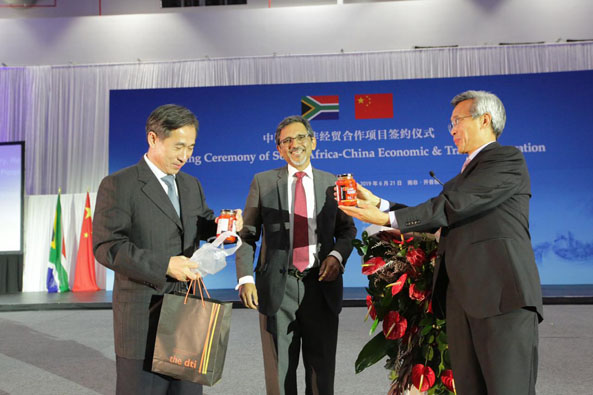 Minister Ebrahim Patel handing Peppadews to Chinese Assistant Minister of Commerce: Ren Hongbin and Ambassador Lin Songtian as part of promoting Proudly SA products
Enquiries:
Sidwell Medupe-Departmental Spokesperson
Tel: (012) 394 1650
Mobile: 079 492 1774
E-mail: MSMedupe@thedti.gov.za
Issued by: The Department of Trade and Industry
Follow us on Twitter: @the_dti
Share this: