The Special Economic Zones (SEZs), Industrial Parks and Black Industrialists programmes are steadily being introduced as focal points for the Workplace Challenge (WPC) Programme, particularly with SEZs expected to play a pivotal role in the implementation of the country's economic and recovery plan. This was said by the Director of Skills for the Economy at the Department of Trade, Industry and Competition (the dtic), Ms Shanaaz Ebrahim, during the  Workplace Challenge Programme Milestone Workshop In KwaZulu-Natal.
What started as a week by Productivity SA, the dtic and the Department of Employment and Labour to create awareness of productivity and competitiveness has developed into a fully-fledged productivity month that has become a landmark campaign.
According to Ebrahim, since its inception in 1998, the Workplace Challenge Programme has grown considerably to support more than 1 300 enterprises and sustained over 50 000 jobs.
"Considering the number of dependents the average worker supports, this equates to a significant impact on the lives of hundreds of thousands of South Africans. That being said, the WPC Programme makes a direct contribution to the achievement of decent employment through inclusive economic growth as it seeks to improve the product, process and people dynamics to enhance sustainable enterprise development," she said.
Ebrahim added that early this year the World Bank reported that post-COVID the global economy is expected to recover by 5.6%, driven by big economies of growth in the United States and China to an extent, as well as stimulus packages across the global North,  but still the global economy has been worst hit since World War II, resulting in a global asset boom fuelling high but very volatile commodity prices, which have been crucial for South Africa.
"I would like to thank and appreciate all the WPC beneficiaries who have demonstrated agility and adaptability since the country was hit by COVID-19, and extend our gratitude to Productivity SA for the crucial role they have continued to play in enhancing productivity and ensuring that companies remain sustainable. We also recognise and thank our stakeholders in KwaZulu-Natal, for their support," said Ebrahim.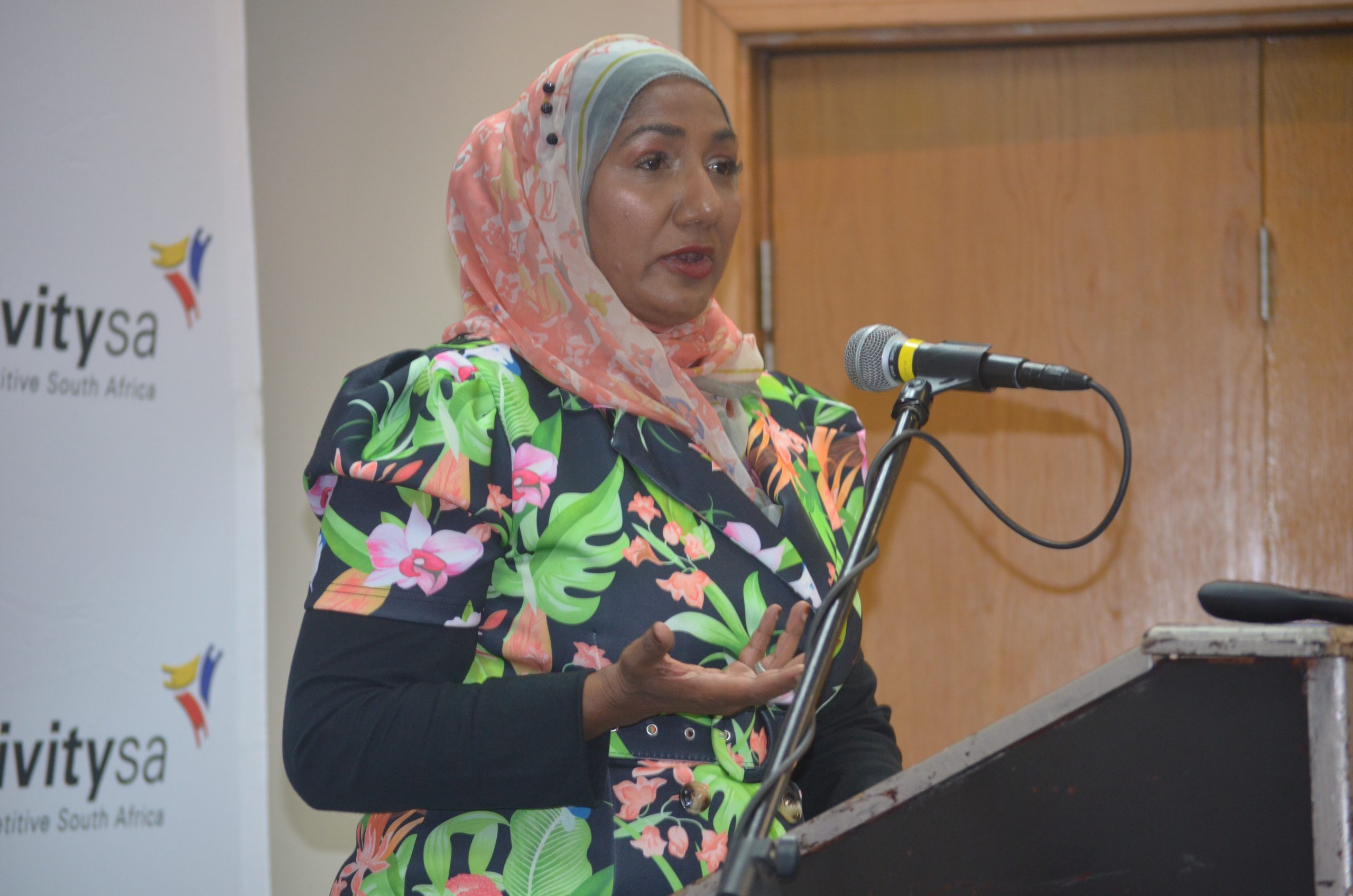 The Director of Skills for the Economy at the Department of Trade, Industry and Competition (the dtic), Ms Shanaaz Ebrahim speaking during Productivity SA's Workplace Challenge Programme 22-year celebration in Durban.
Enquiries:
Bongani Lukhele – Director: Media Relations
Tel: (012) 394 1643
Mobile: 079 5083 457
E-mail: BLukhele@thedtic.gov.za
Issued by: The Department of Trade, Industry and Competition (the dtic)
Follow us on Twitter: @the_dti
Share this: