Proudly South African wines produced by the Stellenbosch-based Western Cape wine company. La Ricmal, are smugly nestled in wine shelves of liquor and retail stores in China, Ghana, Angola, Nigeria and Zambia. Wine lovers in Russia, United States of America, India, Kenya and Uganda will  soon enjoy the taste of the La Ricmal wines. All this, thanks to the international trade missions and national pavilions organised by the Department of Trade, Industry and Competition (the dtic) to assist local companies seek export market in various parts of the world.
The department established the Export Marketing and Investment Assistance (EMIA) Scheme, whose objective is to develop export markets for South African products and services. In the 2019-2020 financial year, more than 500 small, medium and micro enterprises (SMMEs) were funded by the department to search for international markets for their products and services.
The Marketing Director of La RicMal, Mr Malcom Green, who refers to himself as a Winepreneur, says he can never overemphasise the critical role that international trade missions and exhibitions played in enabling him to expand his company's footprint internationally.
"As a company we cannot be grateful enough to government for seeing the bigger picture by recognising the critical contribution of small businesses in particular, in creating jobs and growing the economy. I see this as a win-win relationship between small businesses that require support to grow, and government, that wants to see returns on its investment in businesses. Securing deals in different international markets means that our companies will have to increase production to service the new markets, and this means increasing our labour force and generating export revenue for the country," says Green.
Green founded his business with his son Ricardo in 2007. Criss-crossing the world in search of trade opportunities has enabled them to grow their enterprise steadily as their export base expanded. Today the company employs 30 people.
La RicMal was inevitably one of the liquor companies that were negatively impacted by the ban on alcohol during the country's lockdown. But instead of wallowing in misery, Green made use of the domestic lull in trade to dedicate more energy, effort and time to secure more deals on the international market.
"I continued to pursue contacts that I have made in various countries for possible deals in America, Moscow, Kenya and Uganda. I am grateful that the negotiations have been successfully completed and once all the necessary paperwork is done we will see our wines heading to these countries," adds Green.
He singled out foreign economic representatives (FERs), who are the employees of the dtic located in the various embassies across the globe, as a huge asset for any company harbouring ambitions of securing an export market in any sector.
"The FERs play a critical role in assist us because of the huge amount of information and knowledge that they share about a particular market that they are placed in, including the sector intelligence, market conditions, regulations, and conducting research on the bona fides of companies you are targeting to do business with. Trying to find business internationally is a long, arduous and sometimes hazardous task which could easily discourage companies from pursuing. But the trade missions, international exhibitions and the FERs enable us to be at the right places and meeting the right people," says Green.
For more informaiton on La RicMal visit their website: www.laricmal.com
For information on the dtic's EMIA Scheme click the link: http://www.thedtic.gov.za/financial-and-non-financial-support/incentives/export-marketing-and-investment-assistance/
Captions: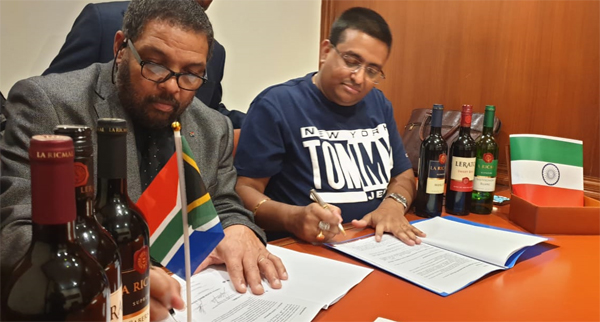 Another one in the bag – Mr Malcom Green signing a deal with an Indian businessman Mr Saikat Banerjee at the Taj Mahal Hotel in Mumbai, India in July 2019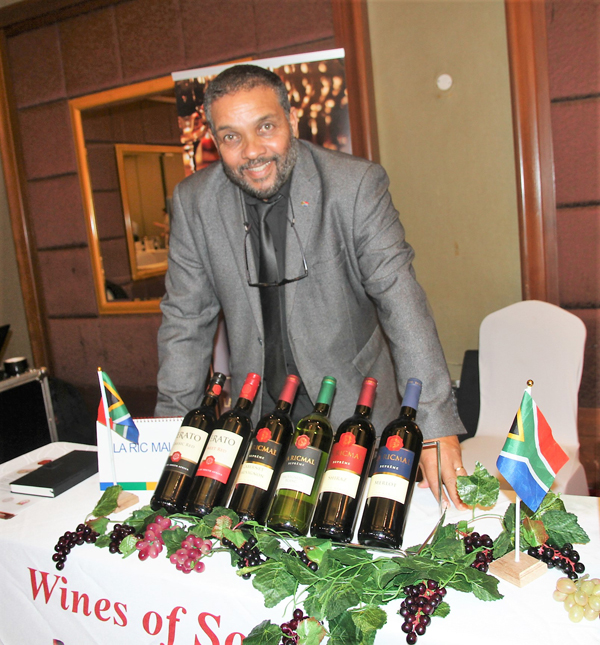 On a mission to expand company footprint – Mr Malcom Green during a mini-exhbition in Uganda organised by the dtic as part of a trade and investment mission in 2019
Enquiries:
Sidwell Medupe-Departmental Spokesperson
Tel: (012) 394 1650
Mobile: 079 492 1774
E-mail: MSMedupe@thedti.gov.za
Issued by: The Department of Trade, Industry and Industry (the dtic)
Follow us on Twitter: @the_dti
Share this: