The trajectory of the South African industrialisation is with knowledge generators who will develop technologies that will increase the uses of Platinum Group Metals (PGMs) in order to create jobs and be competitive in both export markets and the domestic economy. This was said by the Director of Innovation and Technology at the Department of Trade, Industry and Competition (the dtic), Ms Nontombi Marule, who was addressing the Platinum Group Metals (PGMs) colloquium that took place in Pretoria.
The colloquium was held under theme "Adopting an Industrialisation Approach in Platinum Group Metals Technology Development" to Achieve Socio-economic Sustainability," and was attended by Post-Doctoral, Doctoral, Masters, Honours and final year students studying metallurgy and chemical engineering.
The objective of the colloquium was to highlight the importance of developing technologies that will stimulate industrialisation. The PGMs colloquium is aligned to South Africa's industrial policy objectives of diversification beyond current reliance on traditional commodities, such as minerals, to increase value-addition or mineral beneficiation. 
Marule noted that diversification of the economy was vital, adding that South Africa had committed  to move away from a resource-based economy to a knowledge-based economy and develop skills and technology that will increase manufacturing. Minerals alone are not sufficient, the country needs to industrialise as a country, she emphasised.
Marule added that the dtic was focused on conversion of all knowledge forms inclusive of research and development, indigenous knowledge and grassroot innovation to support entrepreneurship, create new industries and support sustainability of existing industries through new products, processes and promoting exports.
"The government has policies in place and it creates an enabling environment, but we need the academia and the private sector to take a lead in developing technologies and developing skills to extract opportunities that these metals presents. As government, we are committed to collaborative efforts by various state organs, private sector and academia to deliver on the socioeconomic challenges of the country," stressed Marule.
South Africa has approximately 90% of the world's PGMs reserves and government recognises that the PGMs sector contributes significantly to South Africa's economy. South Africa country is seeking ways to industrialise in order to address historical structural challenges in the market wherein the country is just known as a net exporter of raw minerals," said Marule.
According to Dr Natalie Shackleton, a Technical Specialist in Metallurgy, in a 2012 survey major weaknesses and threats identified were shortage of skilled people in the industry and at South African universities in the area of minerals processing to enable sustained development of a technological base and the inefficiencies of existing processes. Shackleton highlighted the need for efficient use of energy, water and better management of waste and said that investment in skills and technology development remained critical for South Africa to benefit from PGMs.
"The promotion of sustainable development of the South African minerals processing industry through the development of globally competitive and innovative technology, driven by people with world-class skills can be achieved. It can be done by backing up emerging academics and researchers at South African universities and funding appropriate research projects. Joint ventures between industry and researchers should be formed in order for industry to guide the process of selecting research project that will be of interest to industry with government supporting funding," said Shackleton.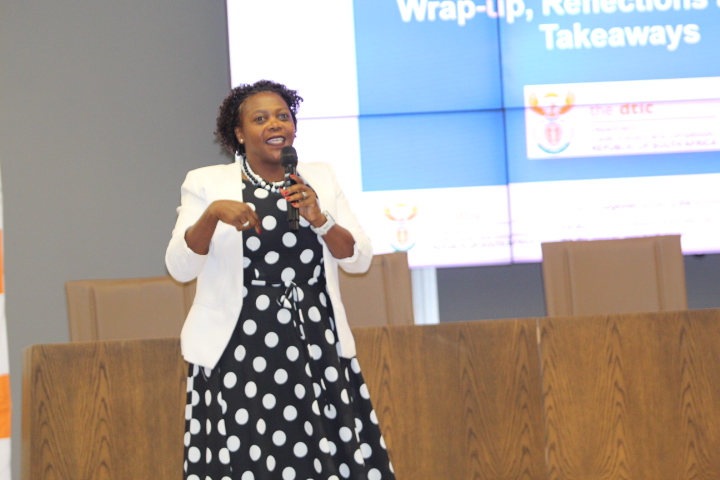 The Director of Innovation and Technology at the Department of Trade, Industry and Competition (the dtic), Ms Nontombi Marule addressing delegates at the colloquium.
Enquiries:
Bongani Lukhele – Director: Media Relations
Tel: (012) 394 1643 / Mobile: 079 5083 457
WhatsApp: 074 299 8512
E-mail: BLukhele@thedtic.gov.za
Follow us on Twitter: @the_dti
Share this: