Uganda is open to do business with South Africa
The efforts of the Ugandan government to improve the country's investment climate have succeeded in transforming the East African country into an attractive investment destination in the region.  This was said by the Acting Executive Director of the Uganda Investment Authority, Mr Lawrence Byensi ahead of the Outward Trade and Investment Mission to Uganda organised by the Department of Trade and Industry (the dti).

The mission, which will comprise of 25 South African companies, will take place from 19-24 May 2019. The main objective of the mission is to increase bilateral trade and investment between South Africa and Uganda.

"It is incumbent upon the South African companies to ensure that they are not left behind by taking advantage of the conducive business environment in Uganda. The macroeconomic policies adopted by our government have undergone a tremendous amount of transformation over the years in favour of the private sector. This was after the government had realised that the economy of the country had to be private-sector led. To this end, government embarked on programme to increase the country's manufacturing capacity in order to decrease our dependence on imports and to grow the economy," said Byensi

He added that attracting both the foreign direct and domestic private sector investment, improving the investment climate and the ease of doing business, and investing in infrastructure and skills development became top priorities of the Ugandan government.

"Our government's efforts have paid dividends as the economy of Uganda is teeming with innumerable investment opportunities for foreign direct investment, including from South Africa. Top of this list is the agro-processing sector because we are an agro-based economy. Investment opportunities in this sector exist in abundance as government has made value-addition in agriculture and the beneficiation of our minerals key pillars of our economic plan in order to create employment, generate revenue for government and grow the economy," added Byensi.

He also listed Information and Communication Technology (ICT), tourism, infrastructure, energy, water transportation, oil and gas, and fisheries as sectors where opportunities for investment await the South African companies.

"The ease of doing business in Uganda has improved significantly. As an investment promotion and facilitation agency, we have established a one-stop centre in Kampala for potential investors who can even do transitions and get assistance online.  Adding to all of these positive factors is our strategic geographical location in the region where we are a member of the East Africa Community and Common Market for Eastern and Southern Africa trade blocs," emphasised Byensi.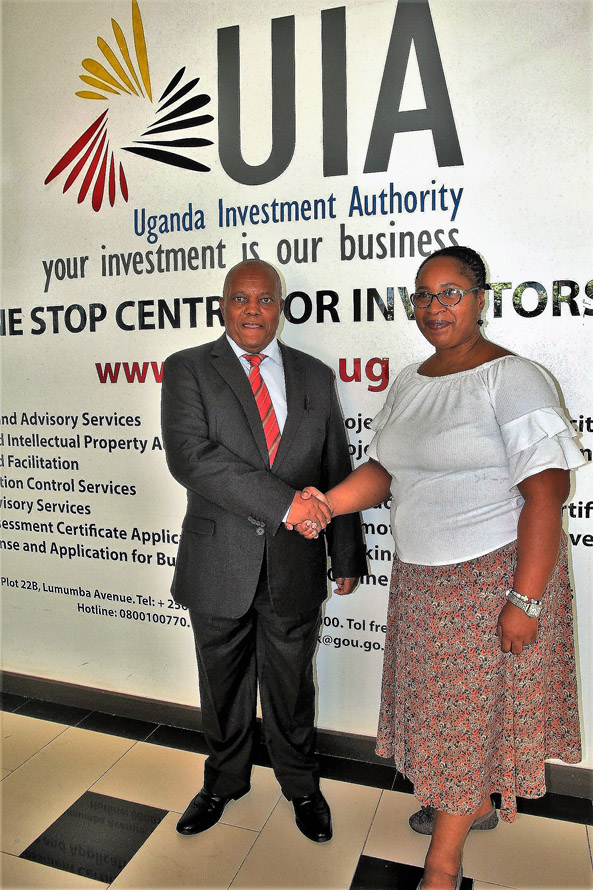 The Acting Executive Director of the Uganda Investment Authority, Mr Lawrence Byensi and the Director of Trade Invest Africa at the dti, Ms Kwanda Modise in Kampala, Uganda.
Enquiries:
Sidwell Medupe-Departmental Spokesperson
Tel: (012) 394 1650
Mobile: 079 492 1774
E-mail: MSMedupe@thedti.gov.za
Issued by: The Department of Trade and Industry
Follow us on Twitter: @the_dti
Share this: