The Department of Trade, Industry and Competition (the dtic) has so far contributed R2.5 billion towards the development of the Tswane Automotive Special Economic Zone (TASEZ).  The money has helped to unlock a R16 billion investment by Ford Motor Company and  further R4.3 billion from automotive components suppliers who will occupy facilities within  the state of the art Special Economic Zone.
The Deputy Minister of Trade, Industry and Competition, Mr Fikile Majola described as unprecedented in South Africa, the speed with which the Tshwane Automotive Special Economic Zone (TASEZ) is being built. He visited the construction site yesterday with Gauteng's MEC for Economic Development, Mr Parks Tau, to receive a progress report and to assess the state of readiness of the operations of different investors.
He said in spite of many hurdles that emerged along the way, chief among them being the Covid-19 lockdowns, much progress has been made in the constuction process as indications are that 70% of the work has been done.
"We also learnt during the briefing that there is an increase in the number of jobs created during this process.  As of today we are informed by Ford that up to 6000 have been created. This is great news for us as government as this is a critical area of interest in our quest to develop the economy of our country," Majola said.
SEZs are critical global tools for social and economic transformation, resulting in exponential growth when deployed judiciously. The Tshwane Automotive SEZ which in total will cover 204 hectars of land is envisaged to follow suit and will be driven by automotive manufacturing and supplier development chain of various vehicle components.
During the briefing, it was revealed that 45% of the procurement spend was on 662 Small, Medium and Micro Enterprises (SMMEs) and a further R25 million went towards training and skills development of the SMME operators.
Some of the component manufacturers, five in total, have already occupied facilities and their manufacturing operations have already begun even though it is at a small scale.
"We will now get into another project, which is the development of the High Capacity Rail Corridor between Silverton and Gqeberha in the Eastern Cape. We will build rail lines working with Transnet and thecprivate sector partners to ensure that Ford and other manufacturers can transport their cars to reduce congestion at the Durban Port," added Majola.
The TASEZ was launched by President Cyril Ramaphosa in 2019 following his international campaign to mobilise investment into the South African economy.  It is one of the ten approved Special Economic Zones spread in seven  provinces.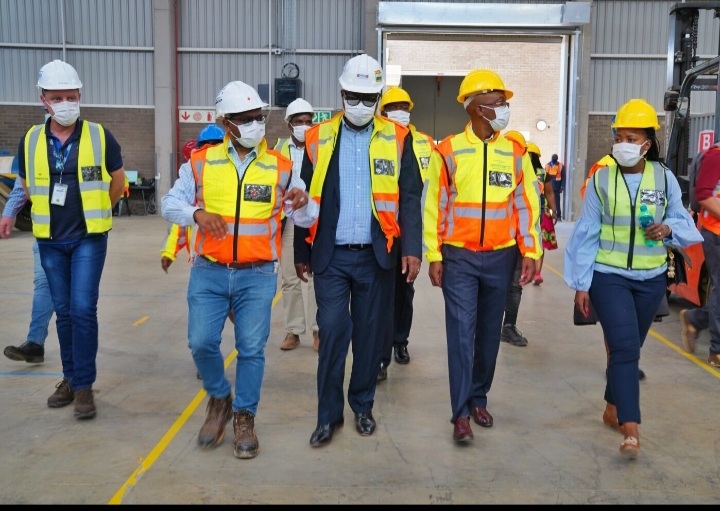 Caption: Deputy Minister of Trade, Industry and Competition, Mr Fikile Majola and MEC for Economic Development, Mr Parks Tau, flanked by officials during a tour of the Tshwane Automotive SEZ in Silverton.
Enquiries:
Bongani Lukhele – Director: Media Relations
Tel: (012) 394 1643
Mobile: 079 5083 457
WhatsApp: 074 2998 512
E-mail: BLukhele@thedtic.gov.za
Issued by: The Department of Trade, Industry and Competition (the dtic)
Share this: