Western Cape companies ready to showcase their products in Italy
Two Western Cape companies, ZA Natural Care and Elim Spa Products, confirm their readiness ahead of the Cosmoprof Worldwide exhibition that will take place in Bologna, Italy from 14 – 18 March 2019. Participation of these companies had been made possible by the Department of Trade and Industry (the dti) through its Export Marketing and Investment Assistance (EMIA) scheme, which aimed to increase exports of South African manufactured products to Italy and beyond.

Cosmoprof Worldwide is a trade fair for the beauty industry. It is intended for beauticians, hairdressers, owners of nail salons, beauty salons, shops for natural products and perfume. Buyers, wholesalers and manufacturers of beauty products are also represented at the fair.

The Export Marketing Manager of Fish Hoek-based company, ZA Natural Care that manufactures aloe gel, facial wash, eye and lip cream, Mr Cornelis Laubscher says they are hoping to establish new contacts in Italy and other European countries with the aim of expanding their brand footprint.

"I have been to Bologna before and there is a huge interest in our products. What is important now is to try and ensure that we supply in massive quantities. Yes, we admit that there are challenges here and there. However, we are working hard to build solid relationship with some European countries that will benefit both parties going forward," says Laubscher.

Laubscher adds that they already have meetings lined up with some potential suitors when they arrive in Italy.

"We already have four major clients from Germany, France and Lithuania that we will be meeting during the exhibition and we are hopeful of scoring new business opportunities for our company especially looking at the amount of effort we have put in building our brand visibility in Africa and some parts of Scandinavian countries," he indicates.

He further adds that one of their product ranges, aloe gel, will be their biggest draw card during the exhibition as it happens to be Europe's favourite natural skin care product.

The International Sales Manager of Elim Spa, Ms Lizette Gustensperger says the magnitude of the trade fair will afford their company an opportunity to expand their distribution network and also infiltrate other potential European market.

Elim Spa Products, which is based Melkbosstrand, produces nail and beauty products ranging from callus removal kit, foot perfector cream, scrubs and exfoliators that are distributed to beauty salons and spas across the African continent and the Gulf countries.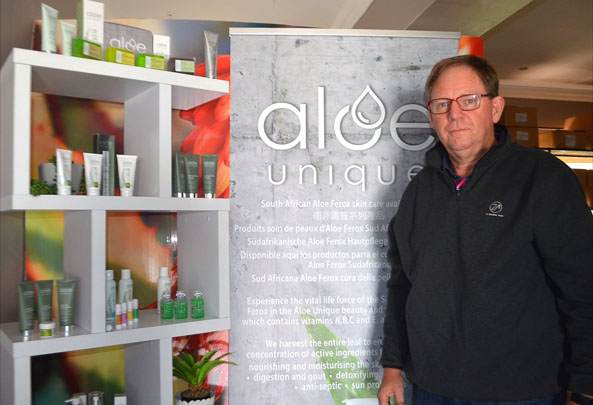 The Export Marketing Manager of ZA Natural, Mr Cornelis Laubscher standing next to some of his products that will be in full display at the Cosmoprof trade fair.
Enquiries:
Sidwell Medupe-Departmental Spokesperson
Tel: (012) 394 1650
Mobile: 079 492 1774
E-mail: MSMedupe@thedti.gov.za
Issued by: The Department of Trade and Industry
Follow us on Twitter: @the_dti
Share this: