Winners of the National Furniture Design Competition announced
A Gauteng businesswoman and a North West student romped home with top honours at the 6th National Furniture Design Competition. Winners of the competition, which is presented by the Department of Trade and Industry (the dti) in partnership with South African Furniture Initiative (SAFI), Proudly South African and Industrial Development Co-operation (IDC) were announced at the Proudly South African Buy Local Summit and Expo in Johannesburg yesterday.

Ms Mpho Vaicker from the Pretoria-based The Urbanative company, won the Established Manufacturers first prize, while Ms Marlize Smith was declared the winner in the Students category.

The competition is aimed at identifying and nurturing furniture design talent, raise the profile of furniture manufacturing in South Africa and to grow the industry's competitiveness by encouraging new product design and differentiation. It is one of the programmes of the Industrial Policy Action Plan (IPAP) which is aimed at addressing the shortage of furniture design skills in the country's furniture manufacturing industry.

Vaicker expressed excitement that her design, a three-piece multi-functional bench that have elements including a magazine rack, side table, a seat and shoe storage shelf was voted the best in the national competition.

"The bench effectively speaks to the theme of the completion, which was making the best use of the limited living space available, as it was designed as a versatile and multi-functional piece of furniture suitable for a very small house.   It fulfils a lot of functions that one requires in a small house. It really provides a solution to the problem of limited living space," said Vaicker.

She added that winning the competition meant a lot for her company, which employs six people, as it affirmed its capability and would contribute in elevating its brand.  Her first prize includes one-year membership of Proudly South African, a graphic table, design software training and a chance to showcase her products at the 100% Design Johannesburg Exhibition.

Smit, an interior design graduate from the Potchefstroom Academy said she did not expect her design, a multi-purpose coffee table, to win as the designs of other students were also very good.

"The coffee table speaks to my own experience as a student living in a very small space and having no option but to make the best of it particularly when people are visiting me. The coffee table can be used as seats and a storage facility when required," said Smit whose prize includes a graphic tablet, design software training and an internship.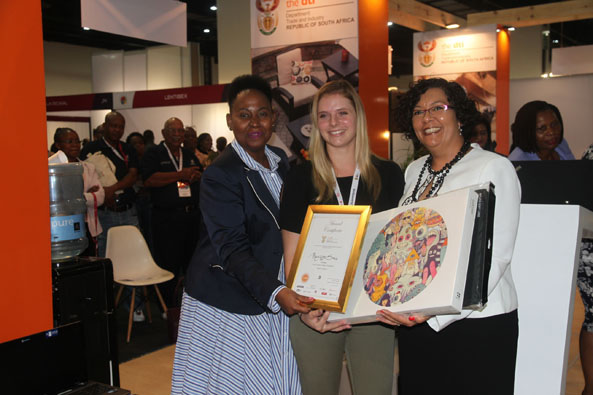 Established Manufacturers category winner of the National Furniture Design Competition Ms Mpho Vaicker with the Chief Operations Officer of the Industrial Development Division at the dti, Dr Anneline Chetty and the dti's Group COO Ms Jodi Scholtz.

Winner of the Students category, Ms Marilize Smith with the Deputy Director-General of Industrial Development at the dti, Ms Thandi Phele and the dti's Group COO Ms Jodi Scholtz.
Enquiries:
Sidwell Medupe-Departmental Spokesperson
Tel: (012) 394 1650
Mobile: 079 492 1774
E-mail: MSMedupe@thedti.gov.za
Issued by: The Department of Trade and Industry
Follow us on Twitter: @the_dti
Share this: