The Director of Skills for the Economy at the Department of Trade, Industry and Competition (the dtic), Ms Shanaaz Ebrahim says the Workplace Challenge (WPC) Programme makes a direct contribution to the achievement of decent employment through inclusive economic growth, as it seeks to improve product, process and people dynamics to enhance sustainable enterprise development. Ebrahim was speaking at a WPC Programme milestone workshop that took place in Midrand.
The aim of the workshop was to interact with companies that have demonstrated resilience in the difficult economic environment to sustain their businesses through the implementation of Productivity SA's WPC Programme.
"Since its inception in 1998 with less than 46 enterprises, the WPC Programme has grown considerably to support more than 1 300 enterprises and sustained over 50 000 jobs," said Ebrahim.
With regard to the challenge of youth unemployment and the struggling economy, Ebrahim said through the Reimagined Industrial Development and Economic Recovery Plan, the government has committed to the implementation of a focused manufacturing programme that will build and support the participation of small, medium and micro enterprises in the manufacturing value chain for the purpose of localisation.
"Central to this is the development of various master plans or partnerships to improve our manufacturing base, performance and competitiveness, special economic zones, revitalisation of industrial parks, and district development models," added Ebrahim.
Speaking at the same event, the Chief Executive Officer of Productivity SA, Mr Mothunye Mothiba said Productivity SA plays a strategic role in the economy and labour market, and are a critical player in the social compact, particularly as it relates to enhancing the productivity and competitiveness of South Africa.
"Today is about productivity improvement and by extension the improvement of the performances of our enterprises. Productivity improvement is the most effective way of ensuring long-term competitiveness, long-term business success, and economic growth, thereby tackling the challenges of unemployment, poverty, inequality, and exclusion," he said.
Mothiba added that productivity leads to growth, which  in turn leads an increase in income levels and improved well-being. He said the more productive the economy was, the more its enterprises become competitive and sustainable as well as grow to preserve existing jobs and create new jobs.
The Co-Director of Matongoni Plastics and one of the beneficiaries for the Workplace Challenge and the dtic's Black Industrialists Programme, Ms Winnie Magodi said their journey with Productivity SA and the WPC started with the Kaizen Continuous Improvement Programme in June 2021 and that they were currently in the aftercare project.
Magodi said that implementing the Kaizen Programme came with some challenges, adding that they have seen considerable benefits which outweighed the challenges.
"We see a lot of potential in our team and we will be resilient in leading them to become a world class manufacturing company," added Magodi.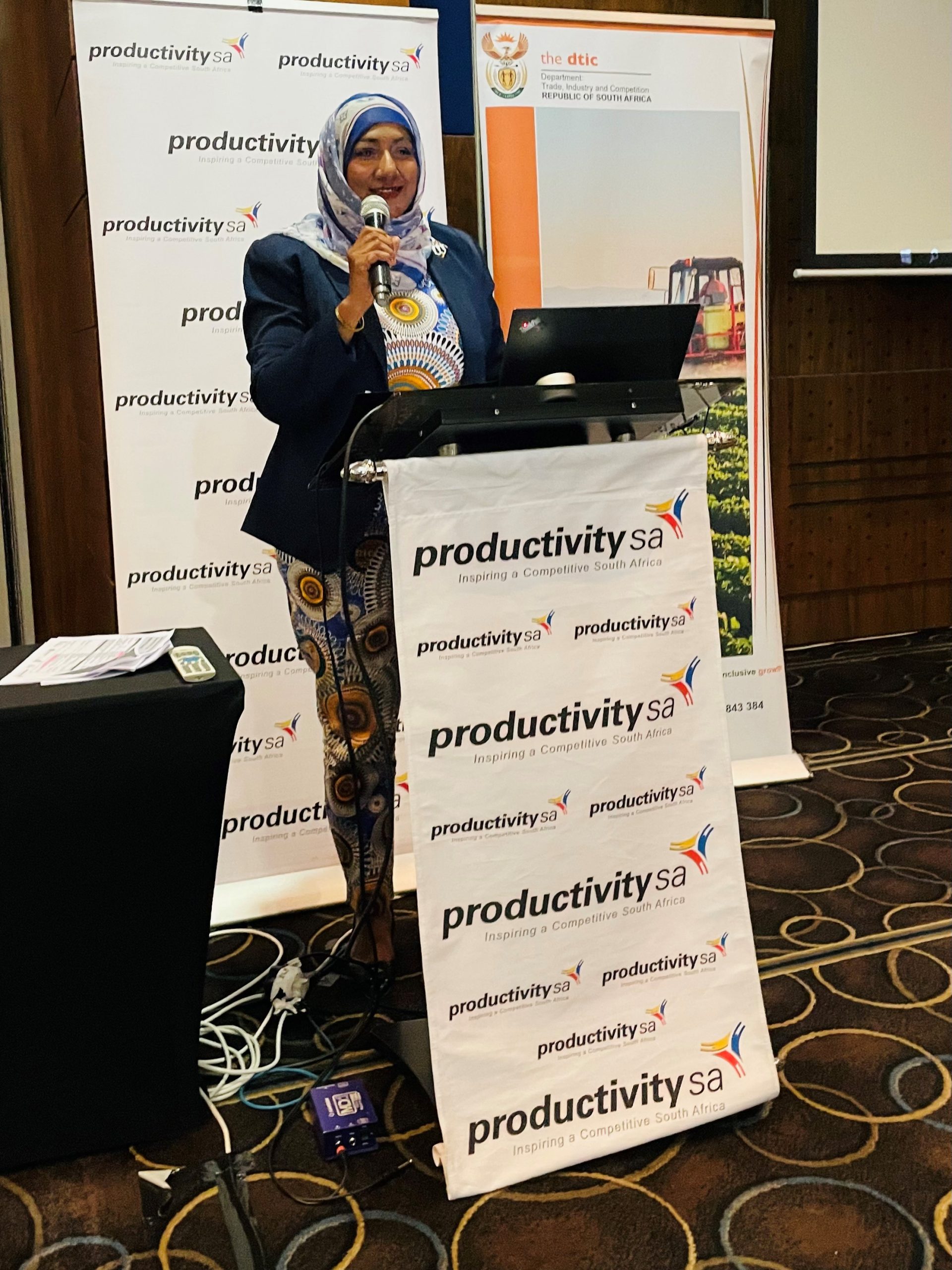 The Director of Skills for the Economy at the Department of Trade, Industry and Competition (the dtic), Ms Shanaaz Ebrahim speaking at the Workplace Challenge Programme workshop in Midrand.
Enquiries:
Bongani Lukhele – Director: Media Relations
Tel: (012) 394 1643
Mobile: 079 5083 457
WhatsApp: 074 2998 512
E-mail: BLukhele@thedtic.gov.za
Issued by: The Department of Trade, Industry and Competition
Share this: