Young people are an important seed for our future and therefore government has a huge responsibility towards them in nurturing, exposing them to opportunities available and providing guidance. This was said by the Deputy Minister of Trade, Industry and Competition, Ms Nomalungelo Gina during a Youth Empowerment Outreach hosted today in Tlakgameng Village Sports Field outside Ganyesa, North West.
According to Gina, one of the real concerns from government is the information flow that is low when it comes to young people in rural areas and peri-urban areas compared to those in the cities and medium towns. She said that unfortunately South Africa has inequality problems and infrastructure backlog.
"Tlakgameng is one of the disadvantaged areas in the country and the future trail blazers will come from you, as its youth. Apart from retail sector employment in this area and Community Works Programme (CWP) which has cushioned some households' income here, there lies the opportunity for you, as young people to take advantage of the dominance of the crop and animal production agriculture in the Kagisano-Molopo municipality," said Gina.
Gina further said that the climate of the area is conducive for both forms of agriculture and that young people must take advantage of it.
"The economy needs young farmers who will turn primary products such as maize to maize meal, milk to cheese, fruits to juice, nuts to peanut butter, red meat to processed meat.
Getting involved in agriculture does not require one to buy a commercial farm but access to land, especially rural land," she said.
Gina added that South Africa  more young people that are interested in entrepreneurship in order to rebuild its economy, taking advantage of the new markets such as Africa through African Continental Free Trade Area (AFCFTA) and also the 2020 Dubai Expo currently taking place in the United Arab Emirates.
Speaking at the same event, the North-West MEC for Economic Development, Environment, Conservation and Tourism (DEDECT), Ms Kenetswe Mosenogi indicated that the outreach formed part of her department's response to the issues that were raised by young people during the webinar that was held in June, which included challenges of accessing opportunities available in government and also delays in getting feedback on their proposals.
Mosenogi encouraged young people to take advantage of platforms such as the outreach programmes in order to get first-hand information to improve and grow their businesses.  She encouraged them to come up with innovative ideas that will help to unlock economic challenges they are faced with, as such, this will sharpen their abilities in ensuring their effective participation in the mainstream economy.
In her concluding remarks, Mosenogi added that the department would continue to strengthen its working relations with other government departments and the private sector by developing an integrated plan that will improve service delivery and attract investment.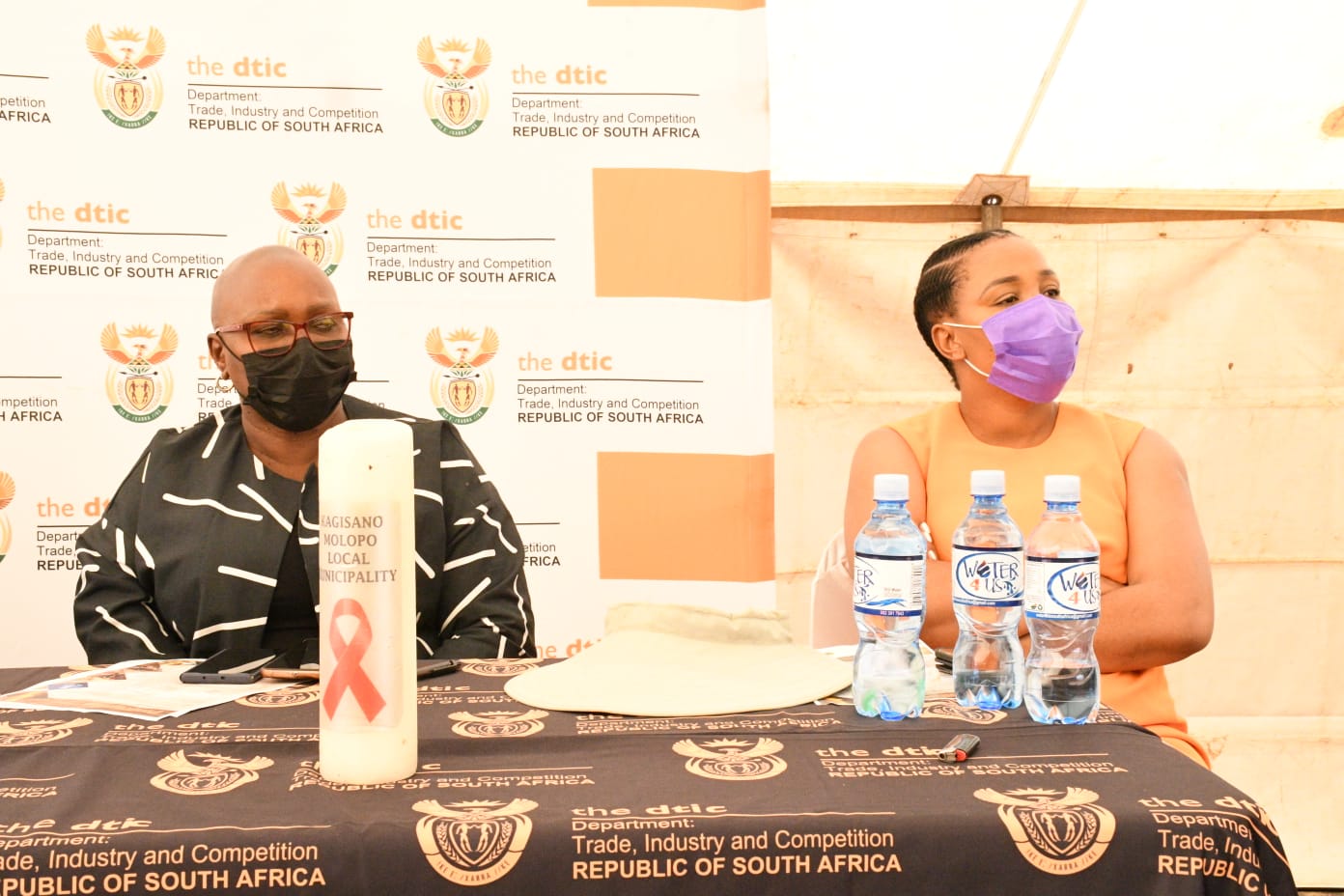 Deputy Minister of Trade, Industry and Competition Ms Nomalungelo Gina together with the North-West MEC for Economic Development, Environment, Conservation and Tourism (DEDECT) Ms Kenetswe Mosenogi at the Youth Empowerment Outreach in Tlakgameng outside Gasenya.
Issued jointly by the dtic and DEDECT.
Enquiries:
Bongani Lukhele – Director: Media Relations
Tel: (012) 394 1643
Mobile: 079 5083 457
WhatsApp: 074 2998 512
E-mail: BLukhele@thedtic.gov.za
Follow us on Twitter: @the_dti
Or
Baabua Thukubi
Deputy Director: External Communication
Mobile: 082 374 7161
E-mail: bthukubi@nwpg.gov.za
Share this: