Ghana is brimming with investment opportunities
The Deputy Minister of Trade and Industry in Ghana, Mr Robert Ahomka-Lindsay says the Ghanaian economy is brimming with investments opportunities that the South African businesspeople can explore in partnership with their Ghanaian counterparts. Ahomka-Lindsay was speaking at the Ghana-South Africa Business Seminar that was hosted by the Department of Trade and Industry (the dti) and the SA High Commission in Accra. The session was part of the Outward Trade and Investment Mission organised and funded by the dti. About 150 South African Ghanaian businesspeople attended the seminar.

"Ghana is not only doing business. It is open for business. We have limited time and energy for rhetoric. We need to get excitement from real action, which is tangible investments. Between 1994 and 2018 the South African businesses invested about US$1 billion in Ghana, largely in the services sector. President Nana Akufo-Addo has clearly expressed his ambition to make Ghana a preferred investment destination in Africa. The government has also set Ghana on a modernisation and industrial transformation path and this has opened a plethora of opportunities for investment in our economy," said Ahomka-Lindsay.

He added that the opportunities for investment were in existence in the more than 250 regions of Ghana after the government introduced the One District, One Factory programme in pursuance of its industrialisation agenda

"The programme is intended to ensure that the raw products that are available in all the districts of our country are processed and value-added before being placed on the export market. There are huge opportunities for investment that this initiative has opened across the country. Our government provides incentives to encourage businesses to take advantage of these opportunities. And these make investing in Ghana more appealing than just doing trade between the two countries. We need a strong industrial base in order to trade," added Ahomka-Lindsay.

He identified agro-processing, mineral beneficiation, automotives and cosmetics as some of the sectors that provide investment opportunities in Ghana.

"We have natural endowments that offer opportunities for investment in beneficiation in each of our 254 regions across the country as part of the One District One Factory programme of government. For an example, there are 24 million trees of sheer butter in the northern region of Ghana. That is like gold waiting to be processed. Opportunities are also opening up in the automotives industry as there are10 international companies looking to set up manufacturing plants in Ghana," said Ahomka-Lindsay.

He also said that Investing in Ghana would also facilitate access to the Economic Community of West African States market comprising of over 300 million people.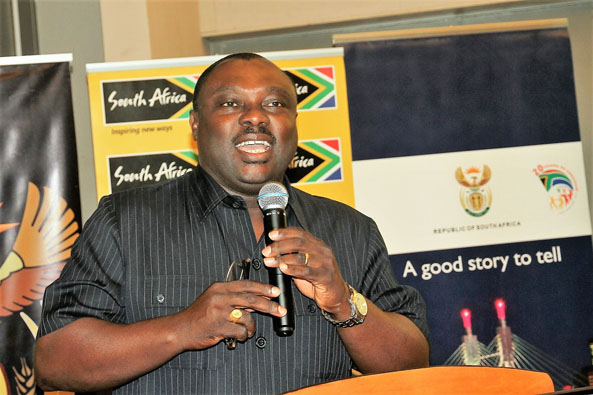 Come invest in Ghana – The Deputy Minister of Trade and Industry in Ghana, Mr Robert Ahomka-Lindsay addressing South African and Ghanaian businesspeople at the business seminar hosted by the dti and the South African High Commission in Accra, Ghana.
Enquiries:
Sidwell Medupe-Departmental Spokesperson
Tel: (012) 394 1650
Mobile: 079 492 1774
E-mail: MSMedupe@thedti.gov.za
Issued by: The Department of Trade and Industry
Follow us on Twitter: @the_dti
Share this: