Creating Township Market Will Grow the Economy – Deputy Minister Majola
The Deputy Minister of Trade and Industry (the dti), Mr Fikile Majola says the creation of township markets will boost economic growth and create jobs. Majola was speaking at the official opening of the second Pick n Pay Ola Market in Botshelong township in Vanderbijlpark.

Ola FreshMarket established a partnership with Pick n Pay, the Department of Small Business Development (DSBD) and the Small Enterprise Finance Agency (SEFA) to focus on revitalising township economies, assisting Small, Medium and Micro Enterprises (SMMEs). The initiative helps independent retailers to make their businesses successful and to play a key role in growing the economy.

"We congratulate Ola's FreshMarket for their ground-breaking initiative in realising the importance of penetrating the local market because that will impact positively on the growth of the economy. Our view as the Department of Trade and Industry (the dti) is that the recently established store must operate as a business anchor, working closely with other nearby small enterprises.  We think that will enable us as government to achieve the mandate set by President Cyril Ramaphosa during his State of the Nation Address (SONA) where he highlighted the importance of revitalising township economies," he said.

Majola urged entrepreneurs to embrace opportunities presented to them by government and the private sectors.

He added that the dti was rolling out different programmes including the Black Industrialists Programme which promotes the creation and long-term sustainability of black businesses.

"Currently we have enrolled 149 Black Industrialists who are going through different stages of mentorship and over the next five years we will support an additional 400 Black Industrialists projects with financial support of R40 billion, through identifying sustainable businesses, new enterprise formation and worker involvement in the enterprises," he added.

The Chief Executive Officer of Pick n Pay Ola's Market that was opened, Mr Thamsanqa Manzi commended the contribution from all stakeholders who supported his business through funding and training programmes. He mentioned that his newly opened retail store will provide employment opportunities to 40 people around the areas of Vanderbijlpark.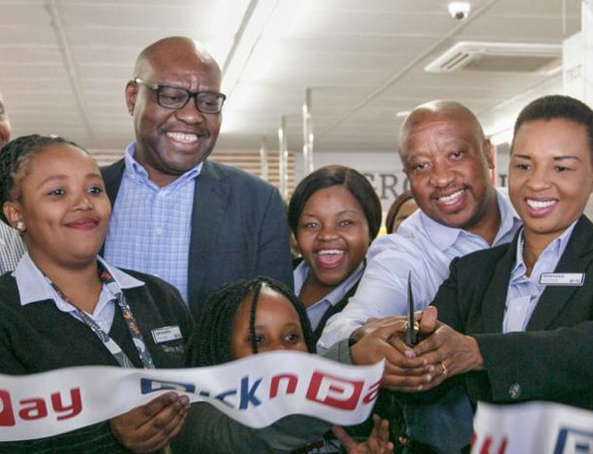 Deputy Minister of Trade and Industry Mr Fikile Majola during the cutting of the ribbon to mark the official opening of the Pick n Pay Ola Market in Botshelong.
Enquiries:
Sidwell Medupe-Departmental Spokesperson
Tel: (012) 394 1650
Mobile: 079 492 1774
E-mail: MSMedupe@thedti.gov.za
Issued by: The Department of Trade and Industry
Follow us on Twitter: @the_dti
Share this: