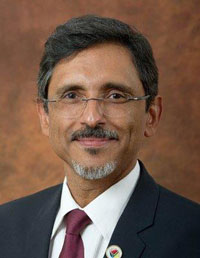 Minister Ebrahim Patel
Ebrahim Patel was appointed Minister of Trade and Industry on 29 May 2019 by President of the Republic of South Africa Cyril Ramaphosa, combining the portfolios of Economic Development and Trade and Industry. Prior to this, he was South Africa's Minister of Economic Development, from May 2009.
During his 10 years as Economic Development Minister, he reshaped competition policy through negotiating far-reaching public interest commitments from companies in large mergers; supporting strong action by the regulators against cartels and collusion; and drafting new legislation to address economic concentration and abuse of dominance in the economy (adopted by Parliament during 2018).
Minister Patel worked with a number of other ministries to lead the state's approach to infrastructure development (through the Presidential Infrastructure Coordinating Commission, the technical Secretariat of which he headed).
His responsibilities since 2010 included overall strategic direction to the Industrial Development Corporation (IDC). Under his leadership, the IDC expanded its approvals for new investment to R110 billion over the period, helping to create or save hundreds of thousands of jobs in South Africa, expand operations in the rest of Africa, support the development of renewable energy and focus on new industrial development (in areas such as food, car-making, steel production, clothing and textiles, and the fourth industrial revolution). He directed the merger of separate small business funding institutions into the Small Enterprise Finance Agency (sefa).
Through his oversight of the work of International Trade Administration Commission (ITAC), Minister Patel introduced a policy directive to enable greater use of scrap metal in local foundries and steel mini-mills, which helped to attract new investment and support local industrial capacity. He chaired the preparatory committee for the inaugural Presidential Investment Conference convened in October 2018.
His Ministry coordinated the work on the New Growth Path (NGP) economic strategy for South Africa, adopted by Cabinet in October 2010, which identified the centrality of employment as a development strategy and set out a number of jobs drivers in the economy. About 2,9 million new jobs were created in South Africa since the adoption of the NGP in 2010 to December 2018.
Minister Patel also coordinated the conclusion of a number of social accords between government and other social partners on training, the green economy, youth employment and local procurement, in the period 2011 to 2013.
Minister Patel was born in 1962. His mother worked for many years in clothing factories in Cape Town. He had a long history of involvement in anti-apartheid activism, playing an active role in student, youth, community and worker protests. He was detained on three occasions during the apartheid era without trial and was held under the Internal Security Act and the Terrorism Act.
During the democratic period, he contributed to social dialogue, labour and employment matters, having led organised labour's negotiations on economic policy in South Africa. In this context, he was closely involved in drafting a number of broad accords on economic policy matters. He has been involved in the textile industry in the organisation of labour and in dealing with social, trade and industrial matters. He has served for more than a decade on the Governing Body of the United Nations agency, the International Labour Organisation (ILO), and led global negotiations on matters as diverse as policy and standard-setting on human resources development, cooperatives, the employment relationship, globalisation and social justice and the Global Employment Agenda.
Minister Patel served as a nominee of President Nelson Mandela on South Africa's first Financial and Fiscal Commission. He also served on the National Economic Development and Labour Council (Nedlac), the Council of Higher Education (CHE) and the Council of the University of Cape Town for a number of years. He studied at the University of the Western Cape and the University of Cape Town.
Contact Details
Ms Tshegofatso Masoga
Private Secretary
Tel: 012 394 3797
E-mail: TMasoga@thedtic.gov.za
Ms Kagiso Malebye
Assistant Private Secretary
Tel: 012 394 5253
E-mail: KCEMalebye@thedtic.gov.za
Ms Labeeqah Schuurman
Chief of Staff
Tel: 012 394 1578
E-mail: LSchuurman@thedtic.gov.za
Ms Tsholofelo Mushi
Cabinet and Parliamentary Liaison
Tel: 012 394 3458
E-mail: MTMushi@thedtic.gov.za
Please direct inquiries/correspondence to: Ministry@thedtic.gov.za