Government Urge Communities to Stay Away from Dangerous and Sub Standard Goods
The Minister of Trade and Industry, Dr Rob Davies says it is government priority to target illegal and sub standards products that are sold to low income households around the country and causes harm. Davies was addressing community members during the safe paraffin appliances awareness campaign in Ashton, Western Cape.

The campaign was aimed at raising awareness about the usage of safe paraffin stoves and to eliminate poor quality stoves that contribute to fires that often devastate informal settlements across the country.

"We need to prioritise this campaign and get rid of all the sub standards paraffin stoves that are imported and sold illegally in our communities and the country. We might think this is an easy thing to do because there is a minimum standard that is set by government that you can't import or sell these stoves, but syndicate and criminals somehow find loopholes in the system and target extremely vulnerable communities who are living in informal settlements," said Davies.

Davies acknowledged that when consumers purchase products, they are most likely to buy the cheapest one because someone is selling it and not because it will cause them harm when they operate it.

"We are appealing to the community to equip themselves with information and refrain from buying these illegal paraffin stoves not only for their own safety but for the safely of their family and others. We also want to assist and make sure that every household have safe products that are legally manufactured in South Africa," added Davies.

The General Manager for Chemicals, Mechanicals and Materials at National Regulator for Compulsory Specifications (NRCS), Mr Thomas Madzivhe says they are aware of the dire consequences of using non-compliant and unsafe products. He said these products are destroying many households and leaving hundreds of our people homeless and in the most extreme, resulting in the loss of lives.

"We want our communities to be fully aware of their rights and to demand safe products from businesses. These stoves are not the only products that we regulate – there are many other various products that we regulate like cement, televisions, vehicles and components and fishery products. We conduct market inspections at the point of entry and regularly conduct inspections in business premises to make sure that products that are put in the market comply with the safety requirements," said Madzivhe.

The partnership by the dti, National Consumer Commission (NCC) and the National Regulator for Compulsory Specifications (NRCS) follows a winter campaign that was kick-started in June 2015 aimed at educating consumers about the importance of using approved appliances such as paraffin stoves and heaters to prevent shack fires which often result in loss of lives and properties.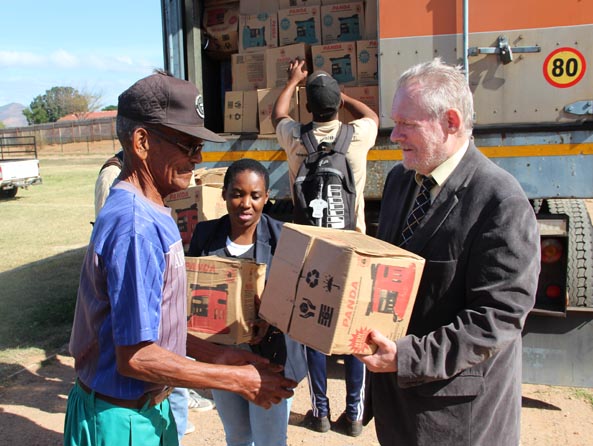 Minister Rob Davies during the safe paraffin appliances awareness campaign held today in Ashton, Western Cape.
Enquiries:
Sidwell Medupe-Departmental Spokesperson
Tel: (012) 394 1650
Mobile: 079 492 1774
E-mail: MSMedupe@thedti.gov.za
Issued by: The Department of Trade and Industry
Follow us on Twitter: @the_dti
Share this: