North West Businesswoman Confident Russians Will Fall in Love with Moringa
2019-09-17
North West's award-winning businesswoman Ms Maboang Matlou is optimistic that the Russians will fall in love with the organic moringa products.  Matlou is the Chief Executive Officer of the Lefakong Farming, which is based at the Bosplaas Village outside Hammanskraal. She is one of the more than 30 businesspeople who will depart for Russia at the weekend to showcase their products at the annual World Food Moscow International Food and Beverage Trade Exhibition from 24-27 September 2019.

Their trip is organised and funded by the Department of Trade and Industry (the dti) through its Export Marketing and Investment Assistance (EMIA) scheme. The objective of the scheme is to develop export markets for South African products and services and to recruit new foreign direct investment into the country.

Matlou is fascinated about the opportunity to introduce her products to thousands of businesspeople from around the world who descend on Moscow annually for the popular trade fair.  These include retail representatives leading supermarket chains, wholesalers, food manufacturers as well as members of the hotel, restaurant and catering sector.

"We are looking forward to the mission as it will give us an opportunity to showcase our organic moringa products at an international platform and introduce the benefits of moringa to an international audience that will include businesspeople and buyers from across the globe. We are particularly targeting the Russian market as we are aware that there is very little availability and awareness of moringa in the country. I have already received an invitation from a Russia-based organic food company that has shown interest in our products," says Matlou.

Matlou, who describes herself as an agro-preneur produces moringa products which include organic tea bags, capsules, powder, health salt, ice tea and gin.

"We are producing from farm to the table. This means that we are occupying the whole of the moringa production value chain. We currently have 7 500 moringa trees on a five-hectare plot from where we harvest, hand pick the leaves, dry them, and then send them to the Agricultural Research Council who are my mentor and contract manufacturer.  We are in the process of completing our processing plant and will add distribution to complete the value chain. We are also increasing the number of trees to 20 000 in order to increase production as part of our expansion," says Matlou.

Matlou says once it gets into operation, the processing plant will assist her achieve her objective of creating more employment for the local youth and women in particular.    Currently the staff includes 11 employees from the Community Works Programme of the Department of Cooperative Governance and Traditional Affairs, three ARC employees and four permanent members of her company's staff.

"Our expansion project is a response to the increasing demand of our products. We are also preparing ourselves for the export market.  We started farming in moringa in 2017 but was fortunate to be given an opportunity by the dti to participate in international exhibitions in Cuba, Japan and China. I learnt a lot about various aspects of operating in the international market when it comes to the agro-processing industry.   Our breakthrough is imminent as we are in talks with companies from Brazil and Mauritius that are interested in importing our products," she adds.

Matlou, the winner of two awards at the North West provincial DAFF Female Entrepreneur Awards last year, has also roped four farmer feeders that will also farm in moringa on her behalf to increase volumes of the raw product.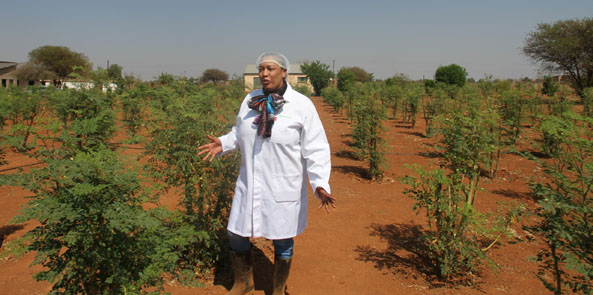 Russia-bound Chief Executive Officer of the Lefakong Farming, Ms Maboang Matlou at the Bosplaas-based moringa farm.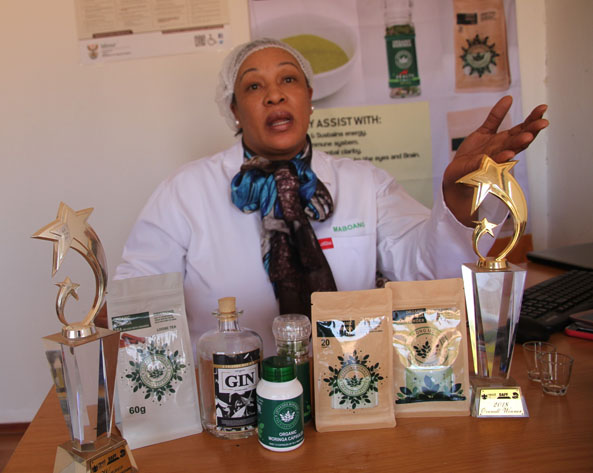 Russia-bound Chief Executive Officer of the Lefakong Farming, Ms Maboang Matlou with her products and awards at the Bosplaas-based moringa farm.
Enquiries:
Sidwell Medupe-Departmental Spokesperson
Tel: (012) 394 1650
Mobile: 079 492 1774
E-mail: MSMedupe@thedti.gov.za
Issued by: The Department of Trade and Industry
Follow us on Twitter: @the_dti
Share this: