Scope For Cooperation Between Africa and China is Vast – Deputy Minister Gina
The Deputy Minister of Trade and Industry, Ms Nomalungelo Gina urged businesspeople from China and Africa to take advantage of the vast scope of cooperation between the continent and the East Asian country to strengthen business relations and increase the flow of trade between the two markets. Gina was speaking at the Hunan-Africa Economic and Trade Cooperation Forum that was hosted by the Chinese province of Hunan in Shanghai today.

The forum took place on the sidelines of the second China International Import Expo where Gina is leading a South African business delegation comprising of more than 20 South African companies supported by the Department of Trade and Industry (the dti) to display their products and woo importers at the popular expo.

"I would like to take this opportunity to emphasise that the scope for cooperation between Africa and China is vast. I urge you to leverage on this platform to create business partnerships to take our relations forward by tapping into the plethora of opportunities that exist in the two markets. There indeed remain great opportunities for Africa and Chinese businesspeople to explore cooperation in infrastructure construction projects such as roads, railways, ports, power generation, airports and housing, as well as in various sectors of our economies. We are encouraged that today there are business leaders from both countries who are willing to forge partnerships to take our bilateral economic relations to new heights," said Gina.

She implored businesspeople to explore opportunities provided by the eight initiatives that were announced by the Chinese President Xi Jinping at the Forum on China Africa Cooperation (FOCAC) in Beijing last year, as a means of collaboration with the African Continent. These are industrial promotion, infrastructure connectivity, trade facilitation, green development, capacity building, healthcare, people-to-people exchange, and peace and security.

"The African countries are well-positioned, committed and ready to take advantage of these opportunities and increase trade and investment between Africa and China after the signing of the African Continental Free Trade Area (AfCFTA). This provides a market of more than a billion people. The AfCFTA will foster a more competitive manufacturing sector and promote the diversification of Africa's exports from being heavily dependent on raw materials to value-added products," said Gina.

Business representatives from Africa got an opportunity to introduce their companies to the Chinese businesspeople at the event, and later interacted with their Chinese counterparts in a matchmaking session. These were preceded by presentations on opportunities that are available for the African companies to explore in the Hunan Province.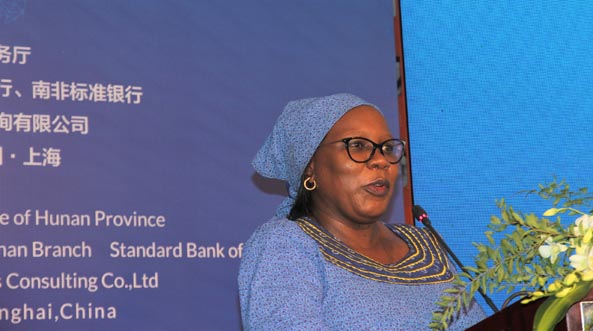 The Deputy Minister of Trade and Industry, Ms Nomalungelo Gina addressing delegates at the Hunan-Africa Economic and Trade Cooperation Forum in Shanghai, China.
Enquiries:
Sidwell Medupe-Departmental Spokesperson
Tel: (012) 394 1650
Mobile: 079 492 1774
E-mail: MSMedupe@thedti.gov.za
Issued by: The Department of Trade and Industry
Follow us on Twitter: @the_dti
Share this: