Black Women-Owned Aerospace, Maritime and Defence Company keen to secure Strategic Partnerships in Brazil
The Chief Executive Officer of black-women owned Floida Engineering Services (FES), Ms Florence Musengi says that the Latin American Defence and Security Exhibition (LAAD) platform falls in line with her company's strategic objectives of securing partnership opportunities in Brazil and the rest of the Southern Common Market (Mercosur) trade bloc.

Floida Engineering Services is showcasing its flagship Short-Range Surveillance Radar system (SRSR) at THE LAAD exhibition in Rio de Janeiro, Brazil.

The company, which was established in 2015, is a multi-disciplinary engineering services company geared towards the provision of innovative solutions for the aerospace and defence industries and researches and develops cutting-edge radar and sensor technologies for use in electronic warfare and secure defence communications.

Musengi explained that the FES-SRSR is a frequency-modulated-continuous-wave 2D Radar that is lightweight and man portable. It features low probability of interception and a configurable sector scan with a range of up to 20 kilometers.

"The FES-SRSR can operate over wired and wireless networks. These features ensure its versatility, allowing it to be used for detection of possible targets across various military and civilian applications such as key point infrastructure protection, perimeter security, border surveillance, wide area threat detection, mobile military base camp protection and battlefield surveillance. The FES-SRSR uses an Open-Architecture to allow integration with other sensors to form part of the surveillance system," she said.

In addition, Musengi said that as an emerging innovation hub, Floida Engineering Services research and development work in radar technology is the cornerstone of the company's strategy for global expansion.

"We were proud to showcase the development progress of our flagship product at LAAD since it was only in the concept stages when we here two years ago. The Latin American defence market is robust; the technology and operational requirements are typically advanced, so acquiring a customer in this market is critical," said Musengi.

LAAD is a leading Latin America and Security event that gathers international and national companies that provides technologies, equipment and services for armed forces, special forces, police, homeland security and security managers from large companies, service concessionaires and critical infrastructure.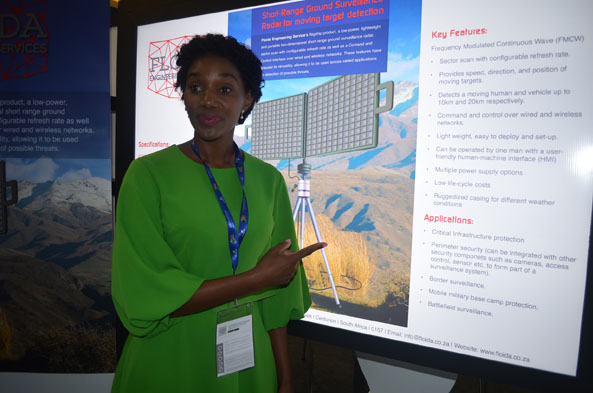 Ms Florence Musengi at the SA Pavilion in LAAD 2019
Enquiries:
Sidwell Medupe-Departmental Spokesperson
Tel: (012) 394 1650
Mobile: 079 492 1774
E-mail: MSMedupe@thedti.gov.za
Issued by: The Department of Trade and Industry
Follow us on Twitter: @the_dti
Share this: